BY RYAN BEVINS, ON TWITTER @BEVOIS
Luana Santos is like many women that compete in MMA today as she looks up to Ronda Rousey as her biggest influence. After all, Rousey single-handedly convinced UFC President Dana White to open the industry leader's doors to women and then went on to become one of the biggest stars in the sport's history.
However, Santos looks up to UFC Hall of Famer in another way. When she was 8-years-old growing up in São Paulo, Brazil, Rousey won a bronze medal in Judo at the 2008 Summer Olympics in Beijing, China, right as she herself, began her own journey into the world of a sport and martial art officially known as "Gentle Way" and unofficially known as "The Art of Hitting Someone with a Planet".
Santos would excel in the sport and eventually began competing on the Brazilian National Team worldwide for the International Judo Federation (IJF), as a teenager, and received her black belt at the age of 18. By that time, she was already a Continental Cup gold medalist at the Cadet European Cup 2017. She won that championship in Turkey when she was 16 and later competed in Croatia and Germany.
"What I love most about Judo is the education and discipline it teaches you," Santos told LFA.com. "I love the fact that I got to know several countries, because of the competitions, and I love the good that Judo has brought to me as a person."
Santos credits Rafael Silva, Rafaela Silva, and Portella as her greatest influences in Judo, but it was the successful transition that Rousey had made to MMA that inspired her to do the same just 11 days after her 19th birthday. That day, Santos would have her first amateur MMA fight. She would win all 3 of her amateur MMA fights and would make her professional debut as soon as the COVID-19 restrictions were lifted midway through 2021 in Brazil.
Get your tickets for LFA 154: Fernando vs. Silva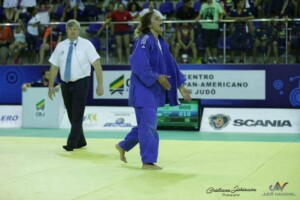 Luana Santos reacts to winning an IJF Judo match.
Santos' professional MMA debut happened to come on the same weekend that the LFA made its international debut in her country. That immediately caught her attention as she knew joining the leading developmental organization in MMA would fast track her progress and development as a fighter.
The young Paulistana would quickly win her first three fights by utilizing her brilliant Judo pedigree. Two of those three wins came via her signature submission, which is a Kesa-Gatame to Ude-Garami. That would be a Keylock that she finishes with her legs after securing a Scarf Hold from side control. In fact, it was her third fight, where she set up this submission off of a beautiful Koshi Guruma (Hip Wheel) throw that caught the attention of the LFA.
Watch LFA 154: Fernando vs. Silva
The LFA immediately signed Santos to a multi-fight deal and she would fly to the United States for the first time to make her promotional debut just 2 months later. It was there at LFA 135 last summer, where Santos would fight Jena Bishop, who is one of America's most decorated Jiu-Jitsu practitioners. The two would engage in a fierce back-and-forth battle that resulted in a Split Decision win for Bishop and was nominated for the LFA Fans' Choice Awards: Fight of the Year (2022). Santos thoroughly enjoyed the experience as it only made her stronger.
"I learned a lot from this fight," Santos explained. "Well, I never lost, because defeat made me a new fighter and made me see and learn a lot from the mistakes I made in the fight. I think I put up a tough fight and went toe-to-toe with Jena."
Santos would return 4 months later, when the promotion traveled to her home state of São Paulo at LFA 146. The world-class judoka would dominate Waleska Sousa with the following scores awarded from the judges: 30-27, 30-26, 30-25. That fight also made her the first woman to compete for the LFA in two countries. Now as she prepares for her next opponent Bartira Rodrigues at LFA 154, she hopes a win will bring her back to the United States, where she would like to train as well as to fight again for the LFA.
"This year, I'm thinking of going to the United States for a while. I think it will be important for my career. When the LFA wants, I'm ready to fight again in the US. I want that very much. I loved the US. I can't wait to go back and now I will definitely come back with the victory for Brazil!"
You can watch Luana Santos battle top undefeated prospect Bartira Rodrigues on the preliminary card of LFA 154. The event takes place this Friday, March 10th and it will be available worldwide at Facebook.com/LFAfighting and Youtube.com/@LFA_Fighting at 7 p.m. ET / 4 p.m. PT. The main card will be available worldwide on UFC Fight Pass at 8 p.m. ET / 5 p.m. PT.
=====================================================================================================
In 2017, RFA and Legacy FC merged to form LFA, the premier developmental organization in Mixed Martial Arts. The combined forces of LFA launched the careers of over 270 athletes that have reached the pinnacle of MMA by competing in the UFC. In 2018, the promotion joined the Imperial Family Companies group (formerly London Trust Media). In 2019, the promotion announced a broadcast partnership with UFC FIGHT PASS®. In 2021, the LFA expanded internationally by hosting multiple events in Brazil.
Please visit LFA.com for bout updates and information. LFA is on Facebook at Facebook.com/LFAfighting. LFA is also on Youtube at @LFA_Fighting, Instagram at @LFAfighting and Twitter at @LFAfighting.
About LFA:
LFA is a professional Mixed Martial Arts promotion that gives rising stars and top contenders the opportunity to prove their talent to fans and leaders in the industry. LFA was formed by the powerhouse merger between RFA and Legacy FC. LFA presents live Mixed Martial Arts events on a monthly basis around the United States including Las Vegas, Los Angeles, Denver, Dallas, and Houston. Based in Las Vegas, NV, LFA is one of the most active and respected MMA organizations in the fastest growing sport in the world. (The Octagon, Ultimate Fighting Championship®, UFC®, and the eight-sided competition mat and cage design are registered trademarks owned exclusively by Zuffa, LLC. All rights reserved).
About UFC FIGHT PASS®:
UFC FIGHT PASS® is the world's leading digital subscription service for combat sports. Since launching in 2013, UFC FIGHT PASS is now available in more than 200 countries and territories. FIGHT PASS provides its members with unlimited access to live UFC FIGHT PASS Prelims; live mixed martial arts and combat sports from around the world; original series and historical programming; special features; behind-the-scenes content; in-depth interviews; and up-to-the minute reports on the world of combat sports. UFC FIGHT PASS subscribers also have 24/7 access to the world's largest fight library, featuring more than 20,000 bouts from dozens of combats sports organizations, as well as every fight in UFC history. Fight fans can access UFC FIGHT PASS on personal computers, iOS and Android mobile devices, Apple TV, Xbox One, Amazon Fire TV, Chromecast, Roku, Samsung Smart TVs, LG Smart TVs, and Sony TVs with Android TV. For more information, please visit UFCFightPass.com.
About IMPERIAL FAMILY COMPANIES:
The Imperial Family Companies maintains a diversified portfolio with one common theme: bringing power to the people. The IFC is proud to partner with the LFA management team to showcase the greatest talents of tomorrow. Learn more about the IFC at ImperialFamily.com.
About GINÁSIO DO POLVILHO:
The Municipality of Cajamar, through the Department of Public Works and Services, coordinated the complete renovation of the entire structure of the Polvilho Gym. Maintenance and repairs were carried out in the entire infrastructure of the gym with new coverage, increase in the dimensions of the court, painting, accessibility to bathrooms, access ramp, installation of a new electronic scoreboard, new hydraulic basketball tables, renovation and installation of LED lighting in the entire indoor and outdoor area of the gym. The restructuring of the space will provide significant improvements for the court to host the numerous competitions held throughout the year and also for the sports projects in various modalities that the City Hall offers free of charge to the population. For more info visit the Cajamar official website.