LEGACY FIGHTING ALLIANCE
LFA is a professional Mixed Martial Arts promotion that gives rising stars and top contenders the opportunity to prove their talent to fans and leaders in the industry.
LFA was formed by the merger between RFA and Legacy FC. LFA presents live Mixed Martial Arts events on a monthly basis around the United States including Atlanta, Minneapolis, Dallas, Denver, Phoenix, Las Vegas, and Los Angeles. LFA has also expanded internationally with multiple events across Brazil.
LFA has quickly become the number one developmental organization in the world as well as one of the most active and respected MMA promotions in the fastest growing sport in the world.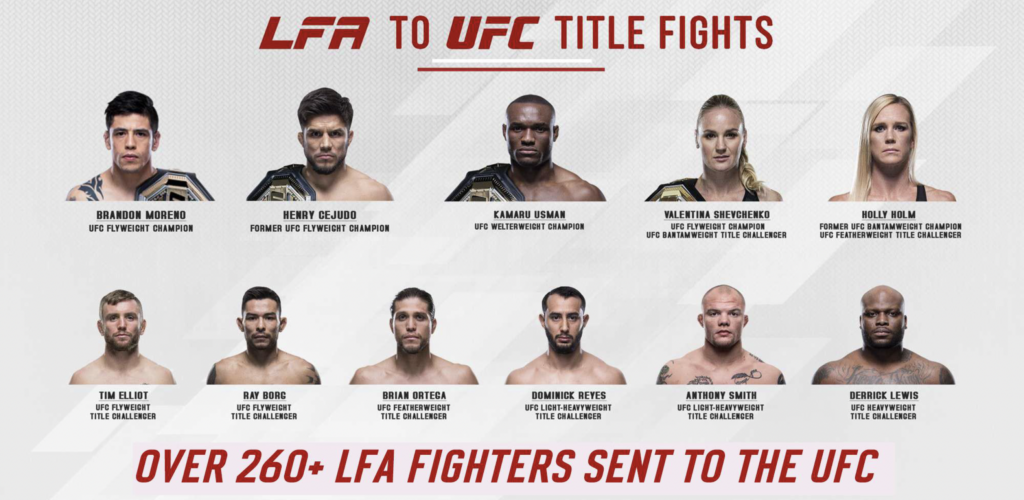 Bout agreements follow the rules on banned substances by the State Athletics Commissions and ABCCS. The Wager Policy which is in every bout agreement must be signed by every fighter.
– NO SPORTS BETTING – LFA Personnel, which includes, but is not limited to, fighters, trainers/coaches, Judges, officials and staff are strictly prohibited from placing, soliciting, or facilitating any bet or wager, whether directly or through a third-party proxy or surrogate on any LFA Event. This prohibition applies to all LFA personnel, and includes, but is not limited to, betting or wagering on season or event outcomes, statistics, scores, individual performances, and any other kinds of legally offered "propositional" bets and wagers.
All LFA Personnel, including their immediate family and household members, are strictly prohibited from participating in any sweepstakes, contest, fantasy sports or pick'em leagues, if it includes an LFA event, or any other promotion offered by or affiliated with LFA.