LAS VEGAS, Nevada — LFA President Sven Bean announced today that the LFA has entered into two event production agreements in October of 2023.
"The LFA team will produce two events in two exciting markets in October," said Bean, who handles venue booking and scheduling for the LFA.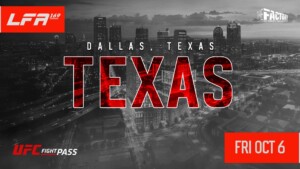 "We will kick things off by returning to the The Factory In Deep Ellum in Dallas, Texas on Friday, October 6th," stated Bean.
"It will be a nice homecoming of sorts, heading back to where it all started and the birthplace of the LFA. It's also the final stop on our 2023 Texas Tour, which has been a huge success so far. There is no other venue quite like the "Factory". I'm a huge music and concert fan, and the vibe inside the venue is more like going to a concert than a fight. I look forward to working with their event team to produce another over the top event for the Texas fans."
Eric Bradford, COO of The Factory in Deep Ellum echoed:
"We couldn't be more excited to bring professional Mixed Martial Arts back to The Factory in Deep Ellum, the birthplace of the LFA. Our one of a kind venue has enjoyed our partnership with LFA, producing world class events for the past 6 years. The local fans know they are attending something special at an LFA event. We look forward to more history in the making on October 27th."
Tickets for LFA 169 are on sale NOW at TheFactoryInDeepEllum.com.
LFA 169 will be broadcast live at 6PM PST/9PM EST on UFC FIGHT PASS.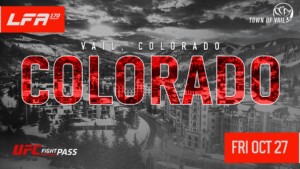 "Then three weeks later, the LFA will return to the Dobson Arena in Vail, Colorado on Friday, October 27th," stated Bean.
"Growing up in the mountains of Colorado, Vail has always been a special place for me. It's known for being an International destination, with a rich history of hosting world class sporting events. I am really proud to add the LFA series to that list. I have enjoyed working with the Town Of Vail Committee for Special Events over the years. I am extremely grateful for their continued support of our brand and our athletes. Each year we try to improve as a production and I'm really excited for the show we will bring to the fans in October."
Town Of Vail Special Event Coordinator Jeremy Gross added:
"The Town of Vail has hosted the Legacy Fighting Alliance for many years now. It's become somewhat of a tradition in town. The community now anticipates this unique event offering. The production of the event each year has left our team impressed. We are excited to welcome them back on October 27th."
Tickets for LFA 170 will go on sale Friday, August 14th at 10:00 am MT at LFATIX.com.
LFA 169 will be broadcast live at 7PM PST/10PM EST on UFC FIGHT PASS.
—
Look for LFA 169 and 170 Main Event, Co-Main Event, and Key Matchup announcements from LFA CEO Ed Soares in the coming days.
—
In 2017, RFA and Legacy FC merged to form LFA, the premier developmental organization in Mixed Martial Arts. The combined forces of LFA launched the careers of over 280 athletes that have reached the pinnacle of MMA by competing in the UFC. In 2018, the promotion joined the Imperial Family Companies group (formerly London Trust Media). In 2019, the promotion announced a broadcast partnership with UFC FIGHT PASS®. In 2021, the LFA expanded internationally by hosting multiple events in Brazil.
Please visit LFA.com for bout updates and information. Visit the official LFA YouTube page at @LFA_Fighting. LFA is on Facebook at Facebook.com/LFAfighting. LFA is also on Instagram at @LFAfighting and Twitter at @LFAfighting.
About LFA:
LFA is a professional Mixed Martial Arts promotion that gives rising stars and top contenders the opportunity to prove their talent to fans and leaders in the industry. LFA was formed by the powerhouse merger between RFA and Legacy FC. LFA presents live Mixed Martial Arts events on a monthly basis around the United States including Las Vegas, Los Angeles, Denver, Dallas, and Houston. Based in Las Vegas, NV, LFA is one of the most active and respected MMA organizations in the fastest growing sport in the world. (The Octagon, Ultimate Fighting Championship®, UFC®, and the eight-sided competition mat and cage design are registered trademarks owned exclusively by Zuffa, LLC. All rights reserved).
About UFC FIGHT PASS®:
UFC FIGHT PASS® is the world's leading digital subscription service for combat sports. Since launching in 2013, UFC FIGHT PASS is now available in more than 200 countries and territories. FIGHT PASS provides its members with unlimited access to live UFC FIGHT PASS Prelims; live mixed martial arts and combat sports from around the world; original series and historical programming; special features; behind-the-scenes content; in-depth interviews; and up-to-the minute reports on the world of combat sports. UFC FIGHT PASS subscribers also have 24/7 access to the world's largest fight library, featuring more than 20,000 bouts from dozens of combat sports organizations, as well as every fight in UFC history. Fight fans can access UFC FIGHT PASS on personal computers, iOS and Android mobile devices, Apple TV, Xbox One, Amazon Fire TV, Chromecast, Roku, Samsung Smart TVs, LG Smart TVs, and Sony TVs with Android TV. For more information, please visit UFCFightPass.com.
About IMPERIAL FAMILY COMPANIES:
The Imperial Family Companies maintain a diversified portfolio with one common theme: bringing power to the people. The IFC is proud to partner with the LFA management team to showcase the greatest talents of tomorrow. Learn more about the IFC at ImperialFamily.com.
About THE FACTORY IN DEEP ELLUM:
The Factory in Deep Ellum is the premiere place to enjoy live music, entertainment, and events in the DFW area. The venue accommodates up to 4,300 fans, consisting of a mezzanine, VIP suites, and premium reserved seating options. The Factory is a state-of-the-art, 50,000 square foot venue located in the heart of Dallas' world-famous Deep Ellum neighborhood, known for its rich culture of arts and entertainment. For more information, visit TheFactoryInDeepEllum.com.
About DOBSON ARENA:
At 35,000-square-feet, Dobson Ice Arena is one of the largest multi-purpose ice facilities on Colorado's Western Slope. It's open year-round for hockey, figure skating and broomball. It hosts ice events such as the Vail Invitational Skating Championships and the Bob Johnson Hockey Camp, yet the Lipizanner Stallions have also performed here, and the arena has been home to many other non-ice events, including concerts. Visit VailRec.com for more information