LAS VEGAS, Nevada — LFA President Sven Bean announced today that the LFA has entered into two event production agreements in April of 2023.
"The LFA team will return to our two most frequented markets to produce back-to-back events in April," said Bean, who handles venue booking and scheduling for the LFA.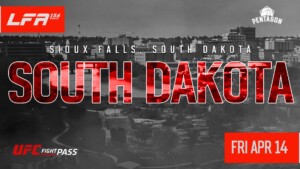 "We will kick things off by heading back to the Sanford Pentagon in Sioux Falls, South Dakota on Friday April 14th" stated Bean.
"As a company we have produced 20 events inside the Sanford Pentagon. The venue is really fan friendly, and a great place to bring a group to watch live fights. There is not a bad seat in the house, from the Suites, to the VIP Tables, even in the bleacher seats. All the while the venue has that high level sports arena quality. I am looking forward to twenty-first show in the venue, and another successful event on April 14th," stated Bean.
Sanford Sports Complex Director Brock Reynoldson echoed that sentiment:
"The Pentagon team always looks forward to the LFA returning to the Sioux Falls market. The local fan base has come to expect high level production along with exciting MMA bouts. With a longstanding history, the LFA and Sanford teams work really well together. We expect another great night for the fans on April 14th.
Tickets for LFA 156 will be available for purchase beginning at 10 a.m. on February 14 at Ticketmaster.com and the Sanford Pentagon Box Office. Ticket options start at $25. For information on purchasing suites and ringside tables, call 605-312-7900.
Blue Rock Bar and Grill will also host a LFA 156 pre-fight party with food and drink specials.
LFA 156 will be broadcast live at 6PM PST/9PM EST on UFC FIGHT PASS.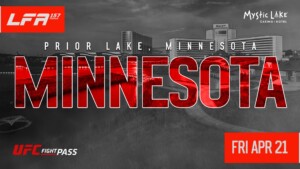 "The following week, the LFA heads to Minnesota for a return to the Mystic Lake Casino Hotel. This will mark the second of three scheduled events at the venue for 2023. The entertainment team is top-notch, and always help the LFA to put the best product out there for our fans. It is without a doubt, one of my favorite venues to work with. We are coming off our biggest event in the history of shows at Mystic, so the bar has been raised pretty high. I'm excited for another great night on April 21st" continued Bean.
Sterling Entertainment Group President, Jeremy Bjornberg added:
"I'm really looking forward to another LFA event in the Mystic Lake showroom this spring. The LFA event in January was the biggest show ever, and I'm hoping for a repeat. I'm happy to be working with the LFA and Mystic teams on two more great events for the 2023 season."
Tickets are on sale NOW at Ticketmaster.com.
LFA 157 will be broadcast live at 6PM PST/9PM EST on UFC FIGHT PASS.
—
Look for LFA 156 and 157 Main Event, Co Main Event and Key Match Up announcements from LFA C.E.O. Ed Soares in the coming days.
—
In 2017, RFA and Legacy FC merged to form LFA, the premier developmental organization in Mixed Martial Arts. The combined forces of LFA launched the careers of over 270 athletes that have reached the pinnacle of MMA by competing in the UFC. In 2018, the promotion joined the Imperial Family Companies group (formerly London Trust Media). In 2019, the promotion announced a broadcast partnership with UFC FIGHT PASS®. In 2021, the LFA expanded internationally by hosting multiple events in Brazil.
Please visit LFA.com for bout updates and information. Visit the official LFA Youtube page at @LFA_Fighting and Facebook page at Facebook.com/LFAfighting. LFA is also on Instagram at @LFAfighting and Twitter at @LFAfighting.
About LFA:
LFA is a professional Mixed Martial Arts promotion that gives rising stars and top contenders the opportunity to prove their talent to fans and leaders in the industry. LFA was formed by the powerhouse merger between RFA and Legacy FC. LFA presents live Mixed Martial Arts events on a monthly basis around the United States including Las Vegas, Los Angeles, Denver, Dallas, and Houston. Based in Las Vegas, NV, LFA is one of the most active and respected MMA organizations in the fastest growing sport in the world. (The Octagon, Ultimate Fighting Championship®, UFC®, and the eight-sided competition mat and cage design are registered trademarks owned exclusively by Zuffa, LLC. All rights reserved).
About UFC FIGHT PASS®:
UFC FIGHT PASS® is the world's leading digital subscription service for combat sports. Since launching in 2013, UFC FIGHT PASS is now available in more than 200 countries and territories. FIGHT PASS provides its members with unlimited access to live UFC FIGHT PASS Prelims; live mixed martial arts and combat sports from around the world; original series and historical programming; special features; behind-the-scenes content; in-depth interviews; and up-to-the minute reports on the world of combat sports. UFC FIGHT PASS subscribers also have 24/7 access to the world's largest fight library, featuring more than 20,000 bouts from dozens of combats sports organizations, as well as every fight in UFC history. Fight fans can access UFC FIGHT PASS on personal computers, iOS and Android mobile devices, Apple TV, Xbox One, Amazon Fire TV, Chromecast, Roku, Samsung Smart TVs, LG Smart TVs, and Sony TVs with Android TV. For more information, please visit UFCFightPass.com.
About IMPERIAL FAMILY COMPANIES:
The Imperial Family Companies maintains a diversified portfolio with one common theme: bringing power to the people. The IFC is proud to partner with the LFA management team to showcase the greatest talents of tomorrow. Learn more about the IFC at ImperialFamily.com.
About SANFORD SPORTS:
Sanford Sports is the modern athletics arm of Sanford Health, the premier rural health system in the United States. Rooted in science and health care, Sanford Sports offers a combination of programs, services, events, facilities and partnerships intended to make active lifestyles accessible and rewarding for people of all ages and abilities. Based on the 500-acre Sanford Sports Complex in Sioux Falls, South Dakota, Sanford Sports has been changing the way athletes play for 25 years. With operations in four states, more than one million athletes use Sanford Sports facilities each year. Visit SanfordSports.com for more information.
About MYSTIC LAKE CASINO:
Mystic Lake Casino Hotel, the premier gaming facility in the Midwest, continually creates new, fun and exciting entertainment experiences for its guests. Mystic Lake® offers gaming, three lively bars, exceptional dining at seven restaurants, headline performers, unique special events and luxurious accommodations. Located 25 minutes southwest of Minneapolis / St. Paul in Prior Lake. Please visit MysticLake.com for more information.