FRIDAY, MARCH 10
LFA 154: FERNANDO vs. SILVA
MAIN EVENT:
PEDRO RIZZO PROTÉGÉ
LUCAS FERNANDO
vs.
DANA WHITE'S CONTENDER SERIES ALUM
JANSEY SILVA
MIDDLEWEIGHT WORLD TITLE FIGHT
CO-MAIN EVENT:
"BBZÃO"
EDUARDO NEVES
vs.
"BRT"
HYAGO SILVA
HEAVYWEIGHT WORLD TITLE FIGHT
LIVE on UFC FIGHT PASS®
GINÁSIO DO POLVILHO
CAJAMAR, SÃO PAULO, BRAZIL
Cajamar, São Paulo, Brazil — On Friday, March 9th, LFA hosted the weigh-in for LFA 154: Fernando vs. Silva from Cajamar, São Paulo, Brazil. In the main event, the middleweight title will be on the line between top contenders Lucas Fernando (8-1) and Jansey "Jones" Silva (8-2). In the co-main event, top prospects Eduardo "BBZÃO" Neves (6-1) and Hyago "BRT" Silva (6-0-1) meet for the vacant heavyweight title.
LFA 154 will feature Brazilian MMA analyst Max Soares, who will be joined in the booth with former UFC star, RFA great, and UFC on ESPN analyst Alan "Brahma" Jouban and UFC Hall of Famer and MMA icon Antônio Rodrigo "Minotauro" Nogueira.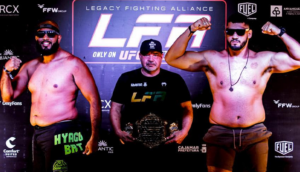 The Brazilian-Portuguese simulcast will feature Brazilian journalist and martial artist André Azevedo, who will be joined by UFC star Caio "The Natural" Borralho. They will call the action live inside the Ginásio do Polvilho in Cajamar, São Paulo, Brazil. The main card will be available tomorrow night LIVE on UFC FIGHT PASS® at 8 p.m. ET / 5 p.m. PT.
Every fighter made their contracted weight when they stepped on the scales. LFA 154 will proceed with thirteen bouts, which includes the Championship Doubleheader at the top of the card.
LFA 154 WEIGH-IN RESULTS:
Main Card (Worldwide on UFC Fight Pass at 8 p.m. ET / 5 p.m. PT):
Main Event | Middleweight Title Bout (185 lb)
Lucas Fernando (185) vs. Jansey Silva (185)
Co-Main Event | Heavyweight Title Bout (265 lb)
Eduardo Neves (265) vs. Hyago Silva (258.6)
Lightweight Bout (155 lb)
Felipe Douglas (155.8) vs. Kauê Fernandes (156)
Welterweight Bout (170 lb)
Carlos Prates (169.8) vs. Eduardo Ramon (171)
Bantamweight Bout (135 lb)
Jean Matsumoto (135.8) vs. Marlon Basílio (135.6)
Light-Heavyweight Bout (205 lb)
Mateus Messaros (199.6) vs. Rodolfo Bellato (205)
Preliminary Card:
Welterweight Bout (170 lb)
Reginaldo Junior (171) vs. Richard Martins (169.6)
Women's Flyweight Bout (125 lb)
Luana Santos (125.4) vs. Bartira Rodrigues (125.2)
Welterweight Bout (170 lb)
João Paulo Silva (169.6) vs. Julio Spadaccini (169.2)
Lightweight Bout (155 lb)
Rhalber Bernardo (155.2) vs. Gabriel Costa (155.8)
Welterweight Bout (170 lb)
Bruno Teixeira (169.4) vs. Michael Oliveira (171)
Heavyweight Bout (265 lb)
Guilherme Uriel (243.2) vs. Jhonatan Peçanha (243.6)
Women's Strawweight Bout (115 lb)
Lany Silva (114.6) vs. Sabrina Oliveira (114.4)
In 2017, RFA and Legacy FC merged to form LFA, the premier developmental organization in Mixed Martial Arts. The combined forces of LFA launched the careers of over 270 athletes that have reached the pinnacle of MMA by competing in the UFC. In 2018, the promotion joined the Imperial Family Companies group (formerly London Trust Media). In 2019, the promotion announced a broadcast partnership with UFC FIGHT PASS®. In 2021, the LFA expanded internationally by hosting multiple events in Brazil.
Please visit LFA.com for bout updates and information. Visit the official LFA Youtube page at @LFA_Fighting. LFA is on Facebook at Facebook.com/LFAfighting. LFA is also on Instagram at @LFAfighting and Twitter at @LFAfighting.
About LFA:
LFA is a professional Mixed Martial Arts promotion that gives rising stars and top contenders the opportunity to prove their talent to fans and leaders in the industry. LFA was formed by the powerhouse merger between RFA and Legacy FC. LFA presents live Mixed Martial Arts events on a monthly basis around the United States including Las Vegas, Los Angeles, Denver, Dallas, and Houston. Based in Las Vegas, NV, LFA is one of the most active and respected MMA organizations in the fastest growing sport in the world. (The Octagon, Ultimate Fighting Championship®, UFC®, and the eight-sided competition mat and cage design are registered trademarks owned exclusively by Zuffa, LLC. All rights reserved).
About UFC FIGHT PASS®:
UFC FIGHT PASS® is the world's leading digital subscription service for combat sports. Since launching in 2013, UFC FIGHT PASS is now available in more than 200 countries and territories. FIGHT PASS provides its members with unlimited access to live UFC FIGHT PASS Prelims; live mixed martial arts and combat sports from around the world; original series and historical programming; special features; behind-the-scenes content; in-depth interviews; and up-to-the minute reports on the world of combat sports. UFC FIGHT PASS subscribers also have 24/7 access to the world's largest fight library, featuring more than 20,000 bouts from dozens of combats sports organizations, as well as every fight in UFC history. Fight fans can access UFC FIGHT PASS on personal computers, iOS and Android mobile devices, Apple TV, Xbox One, Amazon Fire TV, Chromecast, Roku, Samsung Smart TVs, LG Smart TVs, and Sony TVs with Android TV. For more information, please visit ufcfightpass.com.
About IMPERIAL FAMILY COMPANIES:
The Imperial Family Companies maintains a diversified portfolio with one common theme: bringing power to the people. The IFC is proud to partner with the LFA management team to showcase the greatest talents of tomorrow. Learn more about the IFC at ImperialFamily.com.
About GINÁSIO DO POLVILHO:
The Municipality of Cajamar, through the Department of Public Works and Services, coordinated the complete renovation of the entire structure of the Polvilho Gym. Maintenance and repairs were carried out in the entire infrastructure of the gym with new coverage, increase in the dimensions of the court, painting, accessibility to bathrooms, access ramp, installation of a new electronic scoreboard, new hydraulic basketball tables, renovation and installation of LED lighting in the entire indoor and outdoor area of the gym. The restructuring of the space will provide significant improvements for the court to host the numerous competitions held throughout the year and also for the sports projects in various modalities that the City Hall offers free of charge to the population. For more info visit the Cajamar official website.