BY RYAN BEVINS, ON TWITTER @BEVOIS
Child prodigy. Wunderkind. Boy wonder. These are terms we have heard or used sparingly at some point in our lives to describe a highly-talented youth that is destined for greatness. In psychology research literature, it refers to a person under the age of 10, who produces meaningful output in some domain at the level of an adult expert. The term is also applied more broadly to young people, who are extraordinarily talented in some field.
The best known example is Wolfgang Amadeus Mozart, who began playing the piano at age 3. At age 4, he had picked up the violin. By the time he was 8, he had already written his first symphony. Then at 12-years-old, his first opera.
Now meet, Jean-Paul "Mufasa" Lebosnoyani, who is the son of legendary MMA coaching pioneer Nono Lebosnoyani. Nono of course was a student of jiu-jitsu founder Helio Gracie and then coached Helio's son Royce Gracie throughout his early dominance of the UFC and MMA in this country.
Jean-Paul was born over 5 years after Royce Gracie won UFC 1 with his father's help in 1993 and literally grew up on the mats alongside legends of jiu-jitsu and MMA. In the words of Royce Gracie himself, "Jean-Paul has been training since before he could walk".
In fact, Jean-Paul began training at age 3. At age 5, he began competing. By the time he was 10, he was a BJJ world champion. Then at 19-years-old, immediately following his high school graduation, he became a professional MMA fighter with over 500 jiu-jitsu matches to his credit. Perhaps, instead of "Mufasa", his nickname should be "Mozart".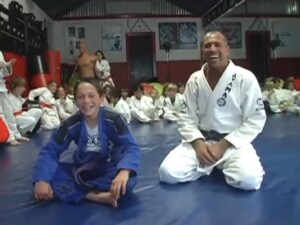 Jean-Paul Lebosnoyani (age 11) training with Royce Gracie.
Now the Wunderkind from the South Bay of Los Angeles is looking to add his first MMA world title to his enormous list of accolades and he could not be more ready for this moment at LFA 158.
"I think fighting for the title is definitely something that, you know, it's the pinnacle of my life," Lebosnoyani told LFA.com. "I've been obviously doing this since I can remember and fighting for the LFA title is the perfect opportunity to eventually train me to fight for the UFC title, which is my ultimate goal. I think you know this is the first of many, because there's two options for me: I win this belt and I defend it and fight for another world title for LFA or I win this belt and I get signed to the UFC and then I embark on my journey of climbing the UFC ranks and ultimately fighting for their title."
"It's very important for me, but at the same time, I'm here to fight and the belt is the cherry on top," Lebosnoyani continued. "The ultimate goal for me is to get my hand raised, is to get a finish, and is to be present in the fight. The belt is after the fight. You don't get the belt during the fight, you get it after the fact that it's done. So, although my eyes are set on becoming a world champion, I guess my focus is to be present in the fight and to take it one punch at a time, one grappling exchange at a time, one breath at a time."
The opportunity to fulfill a well-documented lifelong dream at becoming a world champion in MMA comes this Friday at LFA 158 in Chandler, Arizona. The younger Lebosnoyani has been training for this moment his entire life and is excited to carve out his own legacy, while representing his family name.
"Yeah, so having the opportunity to carve out my own legacy, while still bearing my father's name and representing jiu-jitsu, representing true martial arts is definitely one of the greatest honors of my life," Lebosnoyani explained. "I think having the opportunity to put my name on the line, my reputation, my record, everything on the line is one of the greatest things that you can do in life. I don't think many people have the opportunity to risk it all, you know, to succeed in front of millions or to fail in front of millions. Ultimately, all of that is on my shoulders, and I wouldn't want it any other way. I think that's what life is about. It's about carving out your legacy, yourself, not creeping the easy way anywhere… and fighting for LFA, fighting for one of the best promotions in the world, it's going to make victory taste that much sweeter."
Get your tickets for LFA 158: Lebosnoyani vs. Jones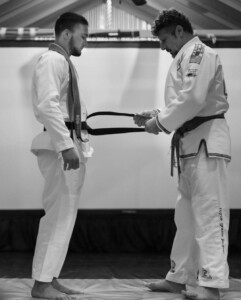 Jean-Paul Lebosnoyani received his black belt in jiu-jitsu from his father Nono Lebosnoyani.
Once Lebosnoyani graduated high school and was able to compete full-time as a professional Mixed Martial Artist, he made his professional MMA debut after signing with the most prestigious developmental organization in the world. That debut came at LFA 54 in November 2018 and he had none other than two-time UFC title challenger, RFA champion, and fellow jiu-jitsu phenom Brian "T-City" Ortega in his corner. It was only fitting, that Lebonoyani would win that fight with a Triangle Choke to make the man nicknamed "Triangle City" proud.
"Brian has always been like an older brother to me more than anything," stated Lebosnoyani. "More than a training partner, more than a coach. He's always been an older brother. Someone who I've looked up to, someone who has taught me a lot of life lessons especially when it comes to Mixed Martial Arts. I think that us having similar styles definitely makes it a lot easier to look up to his fighting style, but he's somebody that I will always look up to throughout my entire career, and I will try to aspire to be like him, while still building my own legacy."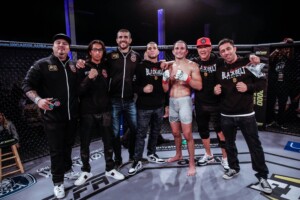 Jean-Paul Lebosnoyani won his pro MMA debut with Brian Ortega and Rener Gracie in his corner at LFA 54.
While Lebosnoyani will always draw comparisons to Ortega due to their fighting styles and connection to the Gracie family, the two fighters do have their differences in the ring and one of those differences could be credited to Nono's decision to have Jean-Paul join his high school wrestling team at Mira Costa High School in Manhattan Beach, California. In his senior season, the team would go on to win the CIF Southern Section championship, while Jean-Paul would finish in the Top 8 at state in the 170-pound division. Wrestling and jiu-jitsu are grappling cousins, but succeeding at both are often mutually exclusive endeavors early in life. This was something Nono wanted Jean-Paul to avoid and it has been paying dividends for Jean-Paul as a Mixed Martial Artist.
"It was ultimately my father's idea to put me in wrestling and the goal, since the very beginning, was always to be a complete martial artist," Lebosnoyani explained. "So competing in wrestling and making it to the highest level in wrestling at a high school level and placing in state is definitely something that I'm very proud of. However, I truly believe that I jiu-jitsu'd my way through my wrestling career. I look at wrestling as jiu-jitsu with handcuffs. Once you take those handcuffs off of me, I think ultimately the goal was to be well-rounded, you know, all across the board. That was the idea with wrestling. I didn't want to wrestle. I kind of was forced to do it in order to be a more complete martial artist and looking back on it, I'm grateful that I did. Especially in this matchup and in almost every single one. I think I've fought three wrestlers in LFA, and I've been successful against all three… so I'm more than prepared. In my opinion, my style of jiu-jitsu goes hand in hand with wrestling. It's not all that different to me. It's grappling."

Jean-Paul Lebosnoyani and Nono Lebosnoyani, the legacy continues…
Despite his success in wrestling and rapidly developing his striking skills under the watchful eye of his head coach Chad George at California MMA & Fitness in Gardena, California, Lebosnoyani knows what he is and will always stay true to his roots.
"Brazilian Jiu-Jitsu is my foundation. It's the core of my martial arts arsenal. Everything is built with that foundation, so you know I wouldn't be able to strike as confidently. I wouldn't be able to wrestle as confidently if I didn't know that in the worst possible positions, I could still be lethal. And jiu-jitsu gives me that. Jiu-Jitsu is a way of thinking. So, I can apply the way that I do jiu-jitsu to my striking, to my grappling, to my wrestling. It's almost like a chess match, a human chess match. So, although striking and jiu-jitsu are two very different things. I think the fact that I can use the strategy and the mentality and thinking three or four steps ahead in jiu-jitsu, the fact that I can translate that to my striking, is an advantage that I don't think most people have. Ultimately, a tree grows from the ground up, and the roots for me are jiu-jitsu."
Watch LFA 158: Lebosnoyani vs. Jones
Lebosnoyani earned his shot at LFA gold the old-fashioned way… by winning. In four fights for the promotion, he has picked up four wins with four different finishes. The first came at LFA 54 with the aforementioned Triangle Choke. In his second fight for the LFA, he let his hands do the talking and won by knockout at LFA 69. Lebosnoyani's third win for the promotion came inside the LFA bubble at LFA 105 via Guillotine Choke. Then in his most recent fight, he earned a title shot and an LFA Fans' Choice Awards: 'Submission of the Year' nominee with a Scarfhold-Keylock. In Judo, this technique is known as the Ude-Garami from Kesa-Gatame and the submission happened with Ronda Rousey's mother and Judo world champion AnnMaria De Mars as well as Rousey's childhood friend and Judo teammate Pauline "Pita" Macias sitting cageside at LFA 137. The finish impressed the two world-class judoka, but this is a style that is unique to Lebosnoyani as one can see from his body of work, you never know how his fights will end.
"When it comes to my submission game, I've never really been compared to anybody in the sense that I have the ability to kind of pull tricks out of a hat," Lebsonoyani explained. "I think that comes from the extensive years of competing as a kid and all the years on the mat. I kind of have developed my own style of finding very weird submissions and honestly I have a lot more that I haven't shown just because I haven't had the opportunity to show it. I don't have a judo background, but I do have an extensive bag of secret tools that I can pull from. Hopefully, on Friday night I can get nominated for another 'Submission of the Year' and hopefully win it this time."
That next matchup will come against one of the finest wrestling prospects to crossover into MMA in recent years. JaCobi "Big Toe" Jones was a three-time NCAA Division II All-American wrestler at Colorado State University Pueblo (CSUP), he was a four-time RMAC champion, and a four-time All-RMAC first team selection. Prior to college, he was a Class A Nebraska State Champion for Omaha North High School at 170-pounds, went 46-5 throughout his senior season, and helped his team win a Nebraska state title. Jones has fought the entirety of his professional MMA career for the LFA and is one of the most talented prospects in the lightweight division. While many prospects would avoid such a daunting challenge, Lebosnoyani is embracing it.
"I think JaCobi is a very tough fighter. I think he's well-rounded," stated Lebosnoyani. "He has danger on the feet, he's dangerous on the ground, and I think he's the perfect test and the perfect opponent for this title. I think anybody less than him would not be a worthy matchup. I think he's very worthy to be in the position to fight for the title and I'm excited to share the cage with him and to you know this is someone that once I beat there's gonna be no question that I'm the LFA champion. It's a very fair stylistically on paper matchup and something I'm gonna feel really good about overcoming and accomplishing by beating JaCobi Jones."
You can watch Jean-Paul "Mufasa" Lebosnoyani face JaCobi "Big Toe" Jones for the LFA lightweight title in the main event of LFA 158. The event takes place this Friday, May 19th and it will be available worldwide on UFC Fight Pass at 10 p.m. ET / 7 p.m. PT.
=====================================================================================================
In 2017, RFA and Legacy FC merged to form LFA, the premier developmental organization in Mixed Martial Arts. The combined forces of LFA launched the careers of over 270 athletes that have reached the pinnacle of MMA by competing in the UFC. In 2018, the promotion joined the Imperial Family Companies group (formerly London Trust Media). In 2019, the promotion announced a broadcast partnership with UFC FIGHT PASS®. In 2021, the LFA expanded internationally by hosting multiple events in Brazil.
Please visit LFA.com for bout updates and information. Visit the official LFA YouTube page at @LFA_Fighting. LFA is on Facebook at Facebook.com/LFAfighting. LFA is also on Instagram at @LFAfighting and Twitter at @LFAfighting.
About LFA:
LFA is a professional Mixed Martial Arts promotion that gives rising stars and top contenders the opportunity to prove their talent to fans and leaders in the industry. LFA was formed by the powerhouse merger between RFA and Legacy FC. LFA presents live Mixed Martial Arts events on a monthly basis around the United States including Las Vegas, Los Angeles, Denver, Dallas, and Houston. Based in Las Vegas, NV, LFA is one of the most active and respected MMA organizations in the fastest growing sport in the world. (The Octagon, Ultimate Fighting Championship®, UFC®, and the eight-sided competition mat and cage design are registered trademarks owned exclusively by Zuffa, LLC. All rights reserved).
About UFC FIGHT PASS®:
UFC FIGHT PASS® is the world's leading digital subscription service for combat sports. Since launching in 2013, UFC FIGHT PASS is now available in more than 200 countries and territories. FIGHT PASS provides its members with unlimited access to live UFC FIGHT PASS Prelims; live mixed martial arts and combat sports from around the world; original series and historical programming; special features; behind-the-scenes content; in-depth interviews; and up-to-the minute reports on the world of combat sports. UFC FIGHT PASS subscribers also have 24/7 access to the world's largest fight library, featuring more than 20,000 bouts from dozens of combats sports organizations, as well as every fight in UFC history. Fight fans can access UFC FIGHT PASS on personal computers, iOS and Android mobile devices, Apple TV, Xbox One, Amazon Fire TV, Chromecast, Roku, Samsung Smart TVs, LG Smart TVs, and Sony TVs with Android TV. For more information, please visit UFCFightPass.com.
About IMPERIAL FAMILY COMPANIES:
The Imperial Family Companies maintains a diversified portfolio with one common theme: bringing power to the people. The IFC is proud to partner with the LFA management team to showcase the greatest talents of tomorrow. Learn more about the IFC at ImperialFamily.com.
About GILA RIVER RESORTS & CASINOS:
Gila River Resorts & Casinos has been operating three locations in Arizona for over 25 years, all owned by the Gila River Indian Community: Wild Horse Pass, Lone Butte, and Vee Quiva. The resorts at Wild Horse Pass and Vee Quiva are Four-Diamond accredited. All three casinos offer a combination of slots, table games, poker and more, and are open 24 hours a day, 365 days a year. Additional information is available at 1-800-946-4452 or at PlayAtGila.com.