BY RYAN BEVINS, ON TWITTER @BEVOIS
Vin Diesel's iconic character Dominic Toretto famously said in a scene from the seventh installment of Fast and the Furious (Furious 7), "I don't have friends, I got family." Those words hold true when it comes to the fast and furious LFA flyweight Eduardo "Chapolin" Henrique and LFA great Tabatha "Baby Shark" Ricci, who is currently competing in the UFC. The two met in their early teenage years back home in Brazil at the beginning of their MMA journey and have since formed a sibling-like bond that has lasted half of their lives. Chapolin grew up in Buritama, which is just across the Tietê River from Ricci's hometown of Birigüi in the state of São Paulo in southeastern Brazil. The two met immediately after they transitioned from traditional martial arts to MMA. Chapolin was a striker (kickboxer) and Ricci was a grappler (judoka), which made their styles a perfect match as they began to mix all of the martial arts. However, the bond that formed between the two created something even better. Now in the final week, leading up to the biggest fight of Chapolin's career at LFA 165, the two Brazilians discussed their unique bond that has brought them to this moment.
"Well, from the first day I met Tabatha, I already knew that we were going to get along very well, because we liked the same things from training to being competitive and today seeing the woman, she has become a sister, friend, training partner… it is very rewarding," Chapolin told LFA.com. "God put wonderful people in our lives, and God gave me a sister. Seeing her get to where she got today is very satisfying for me, because I know how much she worked from the beginning to get where she got. I'm very proud of her as a brother at heart! It was great to see all of her growth, all of her evolution as a woman or even as a training partner… and today I just have to thank God for putting her in my life from the beginning and for being the woman that she is, the sister that she became for me. Today is very rewarding for me! I hope that one day I can repay everything she is doing for me. I know that God doesn't put people in our lives by chance, and if God put her in my life a long time ago as my sister at heart, it's because he has a purpose in our lives. I am very grateful for everything and for having met her too."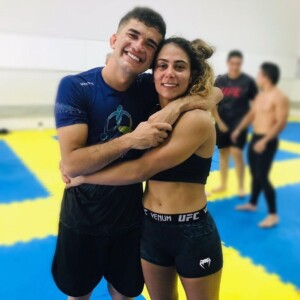 Eduardo "Chapolin" Henrique and Tabatha "Baby Shark" Ricci.
The top-ranked UFC contender Ricci shared similar emotional sentiments, when reflecting on her MMA journey and bond with Chapolin. "I just feel like Chapolin is like a brother for me. We grew up together in the gym," Ricci explained. "I remember when he was living in the gym ever since I have known him, he was always living in the gym. He was always going towards what he loves. He loves to fight. He loves to be in the gym. He always put in the hard work, so that's why I like to partner up with him all the time, because there is no lazy training. We are always going to go hard. We always want to do better. We want to win. That's how I remember him… and having him here with me and then open the doors of my gym, my house, and my friends. It's like I want to help him. I want him to be successful, because I know he can, I can see in his eyes since in the first day that we met. I know that he loves this game and he has this different look that everybody's talking about. My coach, also, we have the same Muay Thai coach in Brazil (Tom Santos) and he's always told him the same thing that he's always told me. So if I did it, I know he can do it."
Get your tickets for LFA 165: Compton vs. Valente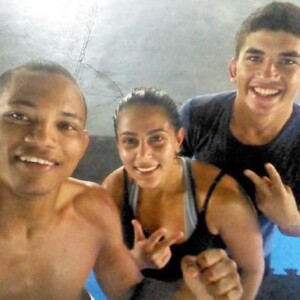 Tabatha Ricci and Eduardo "Chapolin" Henrique with their coach Tom Santos in Brazil in 2014.
The way Ricci "did it" has been well-documented. The young Biriguiense holds the rank of black belt in Jiu-Jitsu and Judo. She earned her black belt in Judo at the Kodokan in Japan and her black belt in Jiu-Jitsu from Ricardo "Franjinha" Miller, who is the founder of the world-renowned Paragon Jiu-Jitsu Academy in Ventura, California. In 2020, Ricci returned to MMA after a 6-year journey competing in other combat sports and earning her black belts. She then signed with the LFA, which is the UFC's premier developmental organization. This happened one month before the LFA followed the UFC as one of the only sports organizations in the world to safely host live sporting events during the COVID-19 pandemic. This added an extra level of intrigue and attention to Ricci and the other fighters competing in the LFA bubble. UFC Fight Pass even sent a film crew to Ventura to produce a feature on Ricci. This added attention fueled Ricci and she flourished under the spotlight. She won 3 fights in just 9 months with the LFA. Those wins came against Kelsey Arnesen (Unanimous Decision), Vanessa Grimes (Submission), and Shawna Ormsby (TKO) in a variety of ways, which showcased her diverse skill set. That is when the UFC saw all they needed to see and signed the rising strawweight prospect to a multi-fight deal.
Ricci has since gone 4-0 as a UFC strawweight and is now 9-0 overall in the division. She is also currently ranked at #14 in the world in the official UFC strawweight rankings. However, with all of her success, she never lost sight of her roots and where she came from. In particular, she had been doing all she could to help her friend Chapolin back home in Brazil. Last summer, she used her connections in the LFA to get him a fight with the promotion after the LFA expanded internationally into her home country. Ricci reached out to LFA matchmaker Mark Bieri and told him about Chapolin. While the referral put Chapolin on the LFA's radar, Bieri quickly signed Chapolin on merit alone. He was a multiple-time national champion in kickboxing and Muay Thai, he was an international champion in kickboxing by winning a title in Japan, and he held an impressive 10-1 professional record in MMA with an additional 69 kickboxing matches to his credit. After watching tape, Bieri was immediately impressed with Chapolin's elite hand speed, timing, and natural abilities. The fact that Ricci was referring him was the icing on the cake and Chapolin made his promotional debut in the LFA's first event in Chapolin and Ricci's home state of São Paulo. The bout came in the co-main event of LFA 136 against fellow top prospect Davi Bittencourt. It was a back-and-forth battle on a card pitting top prospects from the state of Rio de Janeiro against top prospects from the state of São Paulo. Chapolin didn't get his hand raised that night, but took it as a learning lesson.
"I learned a lot after that fight without a doubt," stated Chapolin. "Mainly what happened. Unfortunately, I didn't win, and after that I practically stayed a year without fighting. I'm coming back now fighting again for the LFA and I'm very happy. You will see a new Chapolin that is totally different from the last fight."
It was again Ricci that made Chapolin's next opportunity happen. However, this time she helped organize a plan for Chapolin to leave Brazil and to come train with her in the United States for the first time in his career. That entailed training with her coaches and teammates as well, which reads like a who's who in the world of MMA. First there is Franjinha at the Paragon Jiu-Jitsu Academy, then there is Joseph "Hoss" Janik at KnuckleHeadz Boxing, and finally Alex Jamora for strength and conditioning at Asylum Athletics Club. Inside these gyms are a plethora of BJJ black belts, world-class strikers, and fitness experts that have been reinventing Chapolin from top down over the past 3 months. However, the most important part of Ricci's plan was to get Chapolin another fight in the LFA, but this time while he was in the United States. That was the final piece to the puzzle and she made that happen too after letting Bieri know that Chapolin was stateside training with her. Chapolin was then booked for a fight on the main card of LFA 165 in Santa Cruz, which is the promotion's first event in northern California. This bout will make Chapolin the ninth fighter to fight for the LFA in multiple countries and he is excited to capitalize on this opportunity.
"It's been amazing for me to be here. A very big evolution in my career," Chapolin explained. "Every day I learn a little more from them! They taught me a lot mainly off the mat and on the mat too and it's great to have coaches like that with us throughout our career… I'm loving the experience of being here, evolving with them, and learning from all of this. I'm doing my best! This is an experience that I will take with me for the rest of my life! I am very happy to also be fighting here in the United States without a doubt. Mainly fighting for the LFA. I think that every athlete who fights in Brazil has the objective of fighting for the LFA here in the United States. The event gives us a great chance to enter the UFC."
Watch LFA 165: Compton vs. Valente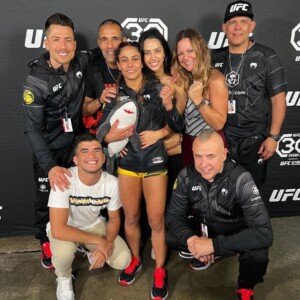 Eduardo "Chapolin" Henrique with Tabatha Ricci and Team Ricci at UFC on ABC 5.
Chapolin arrived in Ventura at the end of May, which was just a couple weeks before Ricci was scheduled to fight Gillian Robertson, who is the UFC's record holder for most submission wins by a woman. Ricci and Robertson fought at UFC on ABC 5, which took place in Jacksonville, Florida on June 24th and Chapolin arrived just in time to help her with the final weeks of her fight camp. Chapolin then traveled with her and her coaches to Jacksonville and he got to experience his first live UFC event and the biggest win of Ricci's career.
"The experience was incredible, especially seeing Tabatha fighting in the UFC," Chapolin explained. "It was my first time at the UFC event! Seeing my sister fighting was incredible, seeing her winning the fight was wonderful, an incredible feeling. Those moments are unique and I will never forget."
After Ricci spent an additional week in Florida after the fight with family and friends, she then headed to Las Vegas for UFC International Fight Week in early July. As a rising star in the UFC, she had a busy schedule throughout the week in Las Vegas filled with fan meet n' greets, autograph signings, training sessions at the UFC Performance Institute, afterparties, and of course UFC 290, which featured a world title fight in Chapolin's flyweight division between two former LFA champions: Brandon Moreno and Alexandre Pantoja. This was also an experience that Chapolin will never forget as it gave him a peek toward what could be awaiting in his not-so distant future.
"It was very incredible to live this experience in Las Vegas with Tabatha without a doubt," Chapolin exclaimed. "To see everything that the UFC provides for an athlete, to see where she is going, and where she is going to go. No doubt she will be champion of her category in a while! This motivates me more every day… I hope that one day I can be living all of this."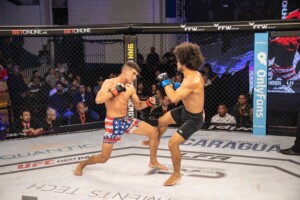 Eduardo "Chapolin" Henrique made his LFA debut in the co-main event of LFA 136.
Now as Chapolin prepares to head up the California coastline from Ventura to Santa Cruz for his highly-anticipated return at LFA 165, he shared his final thoughts on his opponent Leandro "Foguinho" Soares, who is a fellow Brazilian, has 10 professional wins in MMA (identical to Chapolin), but also received his Jiu-Jitsu black belt from two-time IBJJF world champion Mario Reis.
"I don't see anything different about him. He's like all athletes… he has two arms, two legs. I think my will to win will make the difference."
Ricci also shared her thoughts on what makes Chapolin special as she gets ready to travel to Santa Cruz and will be sitting cageside for his bout at LFA 165.
"I think what makes Chapolin special is that he never gives up on his dream. He's been in this game forever and it's always on his mind. It's his life and he has just one plan. That plan was always the Plan A and he always restores that, so that make him very special… not just a fighter, but as a person," Ricci explained. "However, if we are just talking about fighting then it's combined everything. He's fast, he's accurate, he knows what he's doing, he's confident. He just believes in his technique and his movement, his flows… I just feel like he's playing all the time when he trains. It doesn't feel like he's wasting energy or working hard. He's just having fun. I think it feels like home for him. It's just his safe place to be doing what he loves to do."
You can watch Eduardo "Chapolin" Henrique face Leandro "Foguinho" Soares on the main card of LFA 165. The event takes place this Friday, August 18th and it will be available worldwide on UFC Fight Pass at 10 p.m. ET / 7 p.m. PT.
=====================================================================================================
In 2017, RFA and Legacy FC merged to form LFA, the premier developmental organization in Mixed Martial Arts. The combined forces of LFA launched the careers of over 280 athletes that have reached the pinnacle of MMA by competing in the UFC. In 2018, the promotion joined the Imperial Family Companies group (formerly London Trust Media). In 2019, the promotion announced a broadcast partnership with UFC FIGHT PASS®. In 2021, the LFA expanded internationally by hosting multiple events in Brazil.
Please visit LFA.com for bout updates and information. Visit the official LFA YouTube page at @LFA_Fighting. LFA is on Facebook at Facebook.com/LFAfighting. LFA is also on Instagram at @LFAfighting and Twitter at @LFAfighting.
About LFA:
LFA is a professional Mixed Martial Arts promotion that gives rising stars and top contenders the opportunity to prove their talent to fans and leaders in the industry. LFA was formed by the powerhouse merger between RFA and Legacy FC. LFA presents live Mixed Martial Arts events on a monthly basis around the United States including Las Vegas, Los Angeles, Denver, Dallas, and Houston. Based in Las Vegas, NV, LFA is one of the most active and respected MMA organizations in the fastest growing sport in the world. (The Octagon, Ultimate Fighting Championship®, UFC®, and the eight-sided competition mat and cage design are registered trademarks owned exclusively by Zuffa, LLC. All rights reserved).
About UFC FIGHT PASS®:
UFC FIGHT PASS® is the world's leading digital subscription service for combat sports. Since launching in 2013, UFC FIGHT PASS is now available in more than 200 countries and territories. FIGHT PASS provides its members with unlimited access to live UFC FIGHT PASS Prelims; live mixed martial arts and combat sports from around the world; original series and historical programming; special features; behind-the-scenes content; in-depth interviews; and up-to-the minute reports on the world of combat sports. UFC FIGHT PASS subscribers also have 24/7 access to the world's largest fight library, featuring more than 20,000 bouts from dozens of combats sports organizations, as well as every fight in UFC history. Fight fans can access UFC FIGHT PASS on personal computers, iOS and Android mobile devices, Apple TV, Xbox One, Amazon Fire TV, Chromecast, Roku, Samsung Smart TVs, LG Smart TVs, and Sony TVs with Android TV. For more information, please visit UFCFightPass.com.
About IMPERIAL FAMILY COMPANIES:
The Imperial Family Companies maintains a diversified portfolio with one common theme: bringing power to the people. The IFC is proud to partner with the LFA management team to showcase the greatest talents of tomorrow. Learn more about the IFC at ImperialFamily.com.
About KAISER PERMANENTE ARENA:
Kaiser Permanente Arena is home to the Santa Cruz Warriors G League affiliate of the Golden State Warriors and is located at 140 Front St, Santa Cruz, CA 95060. Visit our website for more info: santacruz.gleague.nba.com/kp-arena-information.