BY RYAN BEVINS, ON TWITTER @BEVOIS
Marlon Brando said in his iconic role as Don Vito Corleone in The Godfather, "Great men are not born great, they grow great." This holds true for LFA star Devin "The Prodigy" Smyth and his godfather "Suga" Rashad Evans. Long before Evans would become UFC light-heavyweight champion and a member of the UFC Hall of Fame, he was a star on the Niagara-Wheatfield High School wrestling team, where he twice made it to the state finals tournament of New York by winning his weight class for his region, in which he received All-State honors both times. In 1999, he enrolled at Niagara County Community College and entered the NJCAA National Championships, where he finished as an All-American. The following year, he was the champion of the 165-pound weight class. That success got him recruited to the NCAA Division I level at Michigan State. It is there where he became the Spartans team captain and qualified for the National tournament. However, Evans did something else a lot more important during his time in East Lansing that would be life-changing for himself and Devin Smyth. During a wrestling camp hosted by Michigan State, Evans took Smyth under his wing and the two formed a bond that would later result in Evans and Smyth's mother agreeing to make Evans the godfather of Smyth.
"Devin's been like my son for a long time. He's been in my life for a long time and I've been that role in his life since he's been about like 8-years-old," Evans told LFA.com. "Now to watch him develop, become the fighter, and not only the fighter, the man that he's become in the last few years has been tremendous to see as a parent. You watch your kids grow and you just never know what they're going to be and sometimes it takes silly mistakes and stuff like that. You just stick with them and just hope that they figure it out. I'm seeing that endeavor. I'm seeing the fact that he's made some mistakes and he's been his own worst enemy a lot of times, but now he's starting to take the right steps to not bump his head, not the self-inflicted wounds and it's making me really proud, because the accountability factor has gone through the roof. There isn't much I need to tell him about what he needs to do, because he's starting to see it. He sees it and when we train, when he first came to train with me with this last stint, it's been different. He's been coming in with the skill set that he had before, but now he's been up and in every single area. He's been getting more gritty with it. He's been getting more cerebral with what he wants to do and I feel like now he's a fighter. Now he's not somebody who's just good at MMA, but he's a fighter through and through and by that I mean he thinks about the fight game. He goes to sleep watching fights. He's really tapped into fighting in a level that I hoped that he would and I feel like the level that he's tapped into is going to make a big difference."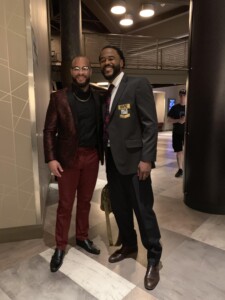 Devin Smyth and his godfather Rashad Evans at Evans' UFC Hall of Fame ceremony.
Smyth is returning to MMA after taking three years off. The layoff came on the heels of consecutive losses on Dana White's Contender Series in the summer of 2019 and a co-main event bout at LFA 90. Smyth had previously began his career with a 15-0 amateur record and 9-1 professional record. The losses to Brok Weaver and Maycon Mendonça forced Smyth to re-evaluate everything he had been doing.
"I think I was winning both of those fights, stated Smyth. "With the Maycon fight, I got too in my head about trying to get a highlight finish and I forgot the most important thing, and that's win… and I allowed myself to start doing stupid shit and got knocked out. That's what happens when you start making mistakes at this higher level. Then when I fought Brok, I still to this day think I'm better than Brok and I still to this day think that if we were to fight right now, I would finish him, but that's not any disrespect to Brok or to Maycon. They're both great fighters, but the Contender Series fight, I tore everything in my shoulder in the first round and then on top of that, I had an adrenaline dump, so I was dead tired and I couldn't use my entire left arm. That was a big thing for that fight… and then the next fight, I was so worried about getting a highlight finish, that I completely stepped away from my entire game plan that I'd been training for, so I wouldn't necessarily say it was a talent jump. It was the self-imposed pressure."
In February 2022, after a year-and-a-half off, Smyth called his godfather Evans and asked if he could come down to Florida to train with him full-time. Evans welcomed him with open arms and with no questions asked. However, this time around Evans insisted it would be his way and they went all-in at Evans' personal training facility in West Palm Beach, Florida.
"Until I moved down here, until I moved back down to Florida. I really wasn't doing much after LFA," Smyth explained. "I sort of took a seat, took a step back from MMA. I had to take some time myself and unfortunately, that time led to some bad decisions being made by me, which landed me in worse positions, and so it was time for me to get out of Michigan. So when I came to Michigan, or when I came to Florida, that was the deal between me and Rashad. I asked him, I said, yo let me please move down there with you and let's take MMA full swing… and let's just really do it. And he was all into it, so about up until February last year, I wouldn't do anything. I was doing things I wasn't supposed to be doing."
Get your tickets for LFA 167: Piersma vs. Smyth
Devin Smyth made his LFA debut in the co-main event of LFA 90.
The last year and half, living and training with Evans, has already paid off in giving Smyth the clarity and focus he needed outside of the Octagon, but Smyth knows that the added work and structured training for the first time in his career will be on full display Friday night at LFA 167.
"It's definitely been a blessing. Moving down to Florida with him sort of helped me find my love for the sport again and helped me make some realizations about myself again. Just all around things I deserve to be in the situation that I am," stated Smyth. "I'm a talented fighter and just pretty much just making me realize that again… and sometimes me realizing that is him beating me up and then having me understand that I'm doing better than the last time and helping me understand that I'm improving, because sometimes I'm very emotional. Sometimes I have days where I'll have a bad day in the gym or I'll have a bad day and it'll make me automatically assume it'll make me so hard on myself. So I think that, damn, I'm really not supposed to be doing this. You know what I'm saying? This ain't for me.. and that's been Rashad's, I think sort of main contribution to me is helping me realize that I deserve to be where I'm at. I'm talented, you know, and things can go well for me in the sport. I just have to do the things that I'm supposed to do… and ever since I got down here, from the first day I got down here, I think I've taken about maybe ten days off in this last year and a half. So it's been a blessing, man. He's helped me find my ground and showed me the way to actually earn success in this sport. I'm blessed."
As for the physical and technical improvements, Smyth elaborated:
"Man, the fact that I'm actually doing what I'm supposed to be doing. I just got off an interview and we were talking about sort of the same thing… I was talking with Rashad and my cousin Lance a couple of days ago, and I just came to a realization. I said I went 15-0 as an amateur. That's 15 fights. 9-3 as a pro, that's twelve fights. So what is that? 27 fights in total. In 27 fights, never once have I ever ran during a training camp. Never once have I ever done any strength conditioning type stuff. Never once have I trained more than four days a week. Never once have I ever done any of the things that you need to be successful in this sport. So now that I'm actually doing it, man, it just gives me all the confidence in the world, because I've never lost the first round in my entire life. Never. And if I can fight in the third round with the same intensity and the same technique and the same skill set as I do in the first round, there's not a lot of people that are going to be able to handle me, that's if they make it that far."
Watch LFA 167: Piersma vs. Smyth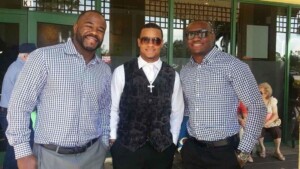 Rashad Evans, Devin Smyth, and Kamaru Usman.
Entering the final days of preparation before stepping back inside the Octagon for the first time in just over three years, Smyth points to some words of wisdom that Evans, a UFC Hall of Famer, has bestowed up on him as his mantra for his comeback.
"To enjoy the process. To enjoy the process, because I have for the longest time, man, I got so caught up in where I'm trying to go and where I'm trying to be and I think that was why I lost the love for a little bit, because I wasn't enjoying it. I wasn't appreciating everything that I had in front of me. I wasn't appreciating the fact that I get up and I'm able to go out and get paid to do something that I love to do, you know?"
He also went back to his roots, remembering two of Evans' career defining moments that have stayed with him to this day. Interestingly, they are not the fights against Brad Imes and fellow UFC Hall of Famer Forrest Griffin that earned Evans the TUF 2 heavyweight crown and UFC light-heavyweight title. They are instead two of the most brutal knockout wins in Evans' illustrious career.
"Oh, it's definitely Chuck Liddell. Definitely, hands down. Either Chuck Liddell or Sean Salmon. Those are my two favorite fights, because Chuck Liddell was… I think that was the fight that I think I was so nervous about, because, man, Chuck was man… when people said Chuck Liddell's name, it was just fear, you know what I mean? It was just that I wanted Rashad to win so bad," Smyth exclaimed. "You know what was just I felt like I was the number one fan and I wanted, I felt like when he was in there fighting, it was me… and when I saw Chuck Liddell's name and I watched his fights and I watched how many legends that he put to sleep or that he TKO'd or came out and did that. Yeah, that was the first time for a fight that I was like, shittin' my pants. Then to watch him obliterate Chuck's chin was just, Oh my goodness. I will never forget that day. I know exactly where I was, exactly what I was eating, and exactly what I did after that happened. Every single, I will never forget that. Then Sean Salmon was man… one of the most beautiful head kicks I've ever seen in my life. That was one of the reasons why I started kicking to begin with, was because I seen that and I was like, oh yeah, that's what I'm trying to do."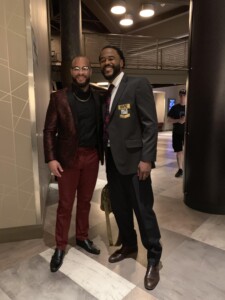 Devin Smyth with Rashad Evans at Evans' UFC Hall of Fame induction ceremony.
Smyth is now prepared for the highly-anticipated second act of his MMA career and is excited that he has the opportunity to re-boot it in the town where it all started for his UFC Hall of Fame godfather Rashad Evans.
Smyth shared his thoughts on what this moment means for him, "It's surreal, but it kind of gives me a sense of calming, having things come around full circle and really being able to be, wow, now you have done so much for me. You know what I mean? You've done so much for me. Let me give back something to you in a sense, you know what I'm saying? I want you to share this moment with me because this fight, it's the most important of my life, but at the end of the day, it's just another fight as well… and that's something that he always tells me no matter what. You can't worry about the life issues. You and me in the garage doing what we love to do… and then when it comes down to it, man, that's all I'm going to be doing, but now I'm coming back to his hometown where everybody knows him, and then, man, what a good way to start my takeoff than to start it where his began, you know?"
Evans is equally excited and added, "For Devin to fight in my hometown is the closest thing that I ever get to fight in my hometown. I've never been able to fight in New York and I've always wanted to… and when I found out they were doing fights in LFA in Niagara Falls, I was just like wishing, you know what I'm saying? Like, dang, I would have loved to have that opportunity, but having that opportunity extended to Devin is a dream come true for me, because Devin is like my son."
The challenge awaiting Smyth is someone who grew up an hour and a half away in New York and trains in nearby Rochester. That would be former St. John Fisher University linebacker Jonathan Piersma, who is widely-regarded as the Northeast's top welterweight prospect.
"He's a great fighter. Great dude. He looks like he's technically sound on the ground. I think it'll be a good fight," Smyth explained. "I'm happy that he accepted the fight. I wish him the best, man. I hope he walks out of there healthy, but I just don't think he's… matter of fact, I know he's not going to have his hand raised."
You can watch Devin "The Prodigy" Smyth face Jonathan "War Hawk" Piersma in the main event of LFA 167. The event takes place Friday, September 15th and it will be available worldwide on UFC Fight Pass at 9 p.m. ET / 6 p.m. PT.
=====================================================================================================
In 2017, RFA and Legacy FC merged to form LFA, the premier developmental organization in Mixed Martial Arts. The combined forces of LFA launched the careers of over 280 athletes that have reached the pinnacle of MMA by competing in the UFC. In 2018, the promotion joined the Imperial Family Companies group (formerly London Trust Media). In 2019, the promotion announced a broadcast partnership with UFC FIGHT PASS®. In 2021, the LFA expanded internationally by hosting multiple events in Brazil.
Please visit LFA.com for bout updates and information. Visit the official LFA YouTube page at @LFA_Fighting. LFA is on Facebook at Facebook.com/LFAfighting. LFA is also on Instagram at @LFAfighting and Twitter at @LFAfighting.
About LFA:
LFA is a professional Mixed Martial Arts promotion that gives rising stars and top contenders the opportunity to prove their talent to fans and leaders in the industry. LFA was formed by the powerhouse merger between RFA and Legacy FC. LFA presents live Mixed Martial Arts events on a monthly basis around the United States including Las Vegas, Los Angeles, Denver, Dallas, and Houston. Based in Las Vegas, NV, LFA is one of the most active and respected MMA organizations in the fastest growing sport in the world. (The Octagon, Ultimate Fighting Championship®, UFC®, and the eight-sided competition mat and cage design are registered trademarks owned exclusively by Zuffa, LLC. All rights reserved).
About UFC FIGHT PASS®:
UFC FIGHT PASS® is the world's leading digital subscription service for combat sports. Since launching in 2013, UFC FIGHT PASS is now available in more than 200 countries and territories. FIGHT PASS provides its members with unlimited access to live UFC FIGHT PASS Prelims; live mixed martial arts and combat sports from around the world; original series and historical programming; special features; behind-the-scenes content; in-depth interviews; and up-to-the minute reports on the world of combat sports. UFC FIGHT PASS subscribers also have 24/7 access to the world's largest fight library, featuring more than 20,000 bouts from dozens of combats sports organizations, as well as every fight in UFC history. Fight fans can access UFC FIGHT PASS on personal computers, iOS and Android mobile devices, Apple TV, Xbox One, Amazon Fire TV, Chromecast, Roku, Samsung Smart TVs, LG Smart TVs, and Sony TVs with Android TV. For more information, please visit UFCFightPass.com.
About IMPERIAL FAMILY COMPANIES:
The Imperial Family Companies maintains a diversified portfolio with one common theme: bringing power to the people. The IFC is proud to partner with the LFA management team to showcase the greatest talents of tomorrow. Learn more about the IFC at ImperialFamily.com.
About SENECA NIAGARA RESORT & CASINO:
Seneca Niagara Resort & Casino is a full-amenity resort located in picturesque Niagara Falls, New York. Featuring 604 rooms and suites, our AAA Four-Diamond rated hotel is the region's premier vacation destination. With ten restaurants, seven shops, more than 2,500 slots, and over 80 table games, live poker, keno, a full-service spa, flexible meeting facilities, rewarding promotions, superstar entertainment, and exciting nightlife, Seneca Niagara is consistently rated as a must-see Niagara Falls casino. From honeymoons to family getaways, your adventure starts here. For more info visit SenecaNiagaraCasino.com.