BY RYAN BEVINS, ON TWITTER @BEVOIS
Azamat Bekoev made his professional MMA debut in 2015 and proceeded to finish his first eight opponents. This included winning two fights on the night that he made his professional debut. He then won another one-night tournament two years later. However, his immediate impact on the sport was not an overnight success story. It was something he had been preparing for his whole life, whether he knew it or not.
"As a child, I had to fight a lot on the street due to the fact that I was smaller than my peers," Bekoev told LFA.com. "At the age of 19, I learned that there is such a sport as MMA and decided to try it. Since then, I have been in the business. I rely on God! I train hard and go to my goal. That's what gives me confidence and strength! As an amateur, I fought 3-4 fights a day. Fighting two men in one night for me was not a problem!"
Get your tickets for LFA 152: Valente vs. Bekoev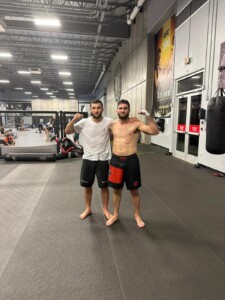 Azamat Bekoev and Josh Silveira: Brothers-In-Arms at ATT.
Bekoev has since compiled a 14-3 record, which includes a pair of prestigious Russian titles, the Grand Prix of the Cities of Military Glory (2017) and Russian MMA Cup (2017). Now after competing for eight years in Russia, Uzbekistan, Belarus, and Turkey, Bekoev has decided it's time to take his talents to South Beach, which is where he teamed up with Josh Silveira and American Top Team (ATT).
"Josh (Silveira) has helped me a lot," Bekoev explained. "Not only in training, but also in learning English. I also had weight cuts during preparation and he found a doctor for me, so we became friends. ATT has a friendly environment and very strong sparring partners and trainers. I want to thank them for their help!"
Silveira is of course the former two-division LFA champion, who took the promotion by storm in 2021 by winning the LFA light-heavyweight title, the LFA middleweight title, and the LFA Fans' Choice Award for Male Fighter of the Year. The former Arizona State wrestling standout also found the perfect training partner in Bekoev.
This is because Bekoev is from Vladikavkaz, which is the capital city of the Republic of North Ossetia–Alania in Russia. The city is located on the foothills of the Caucasus Mountains in Eastern Europe and is a region famous for producing world-class athletes across all combat sports.
The city is also home to one of the world's most prestigious Freestyle Wrestling academies. The Wrestling Academy of Aslan Khadartsev opened in February 2016 and it is the biggest wrestling academy in the South of Russia. Bekoev is excited that his North American debut will be taking place in Oklahoma, which is also synonymous with wrestling. He is well aware of the state's wrestling tradition and feels this may get the fans on his side at the neutral location for his showdown with Brazilian standout Renato "Índio" Valente in the main event of LFA 152: Valente vs. Bekoev on Friday, February 10th.
"Where I come from, we love wrestling. We have a lot of Olympic champions, so the public in Oklahoma will like my fight! I don't have boring fights. 93% of my wins have ended with finishes."
Watch LFA 152: Valente vs. Bekoev on UFC Fight Pass
Now in the final stretch of his training camp at ATT, the 27-year-old can't help but reflect on how far he has come to showcase his proud fighting lineage, as he prepares to accomplish another lifelong goal. Representing his family and his people in the main event of a major MMA promotion overseas, which will be available worldwide and exclusively on UFC Fight Pass.
"I'm so excited," Bekoev exclaimed. "I always wanted to fight in North America and now I have a chance and I will do this. I think I'm the best outside the UFC and I'm going to prove it. Life in the mountains is hard, because there are harsh conditions and they harden people. My ancestors, the Scythians, the Sarmatians, the Alans, were warriors, and I need to match them. A lot of people write and support from back home. People in Ossetia love sports. This also motivates me!"
=====================================================================================================
In 2017, RFA and Legacy FC merged to form LFA, the premier developmental organization in Mixed Martial Arts. The combined forces of LFA launched the careers of over 270 athletes that have reached the pinnacle of MMA by competing in the UFC. In 2018, the promotion joined the Imperial Family Companies group (formerly London Trust Media). In 2019, the promotion announced a broadcast partnership with UFC FIGHT PASS®. In 2021, the LFA expanded internationally by hosting multiple events in Brazil.
Please visit LFA.com for updates and information. LFA is on Facebook at Facebook.com/LFAfighting. LFA is also on Instagram at @LFAfighting and Twitter at @LFAfighting.
About LFA:
LFA is a professional Mixed Martial Arts promotion that gives rising stars and top contenders the opportunity to prove their talent to fans and leaders in the industry. LFA was formed by the powerhouse merger between RFA and Legacy FC. LFA presents live Mixed Martial Arts events on a monthly basis around the United States including Las Vegas, Los Angeles, Denver, Dallas, and Houston. Based in Las Vegas, NV, LFA is one of the most active and respected MMA organizations in the fastest growing sport in the world. (The Octagon, Ultimate Fighting Championship®, UFC®, and the eight-sided competition mat and cage design are registered trademarks owned exclusively by Zuffa, LLC. All rights reserved).
About UFC FIGHT PASS®:
UFC FIGHT PASS® is the world's leading digital subscription service for combat sports. Since launching in 2013, UFC FIGHT PASS is now available in more than 200 countries and territories. FIGHT PASS provides its members with unlimited access to live UFC FIGHT PASS Prelims; live mixed martial arts and combat sports from around the world; original series and historical programming; special features; behind-the-scenes content; in-depth interviews; and up-to-the minute reports on the world of combat sports. UFC FIGHT PASS subscribers also have 24/7 access to the world's largest fight library, featuring more than 20,000 bouts from dozens of combats sports organizations, as well as every fight in UFC history. Fight fans can access UFC FIGHT PASS on personal computers, iOS and Android mobile devices, Apple TV, Xbox One, Amazon Fire TV, Chromecast, Roku, Samsung Smart TVs, LG Smart TVs, and Sony TVs with Android TV. For more information, please visit UFCFightPass.com.
About IMPERIAL FAMILY COMPANIES:
The Imperial Family Companies maintains a diversified portfolio with one common theme: bringing power to the people. The IFC is proud to partner with the LFA management team to showcase the greatest talents of tomorrow. Learn more about the IFC at ImperialFamily.com.
About GRAND CASINO HOTEL & RESORT:
Located a short drive east of Oklahoma City on Interstate 40, our casino features over 125,000 square feet of gaming space filled with over 2,000 of the newest, Vegas-style slots as well as Oklahoma's only Keno lounge. We also feature a luxury 14 story hotel tower and several great dining selections. When it comes to entertainment we at the Grand Casino deliver world class shows from Vegas-style acts to national caliber events including all music genres, comedians, sporting events, and poker championships. Learn more at GrandResortOK.com.