BY RYAN BEVINS, ON TWITTER @BEVOIS
Tabatha Ricci is a name that is very familiar to LFA fans as she quickly became one of the promotion's biggest stars during her tenure with the promotion from the middle of 2020 to the middle of 2021. After going 3-0 for the leading developmental organization for fighters looking to go to the UFC, Ricci was quickly scooped up by the industry leader. "Baby Shark" fought three times for the UFC in her first year with the promotion, which included a perfect 2-0 record in her natural strawweight division of 115-pounds. Those wins came via dominant Unanimous Decision victories over fellow Brazilian prospects Maria Oliveira and Polyana Viana.
The win against an established star like Viana saw Ricci's star rise to new heights. However, Ricci and her fans have had to wait 10 months to see her return to the Octagon since that win last May. Ricci was quickly booked to fight fellow LFA alum Cheyanne Vlismas at UFC Vegas 61 in October, but Vlismas withdrew from the bout 4 weeks before the fight and was replaced by former UFC title challenger Jessica Penne. Penne then pulled out on the morning of the weigh-in with an illness.
Get your tickets for Watch UFC 285: Jones vs. Gane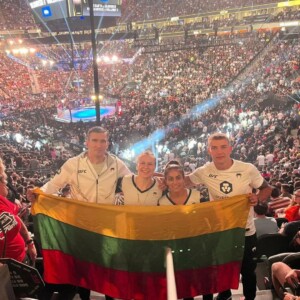 Tabatha Ricci cornered Julija Stoliarenko at UFC 276: Adesanya vs. Cannonier. Stoliarenko submitted Jessica-Rose Clark via armbar in 42 seconds.
While some people might see that as bad luck, Ricci chooses to see the silver lining. One month after the fight cancelation, the bout with Penne was re-booked for one of the biggest UFC events of 2023. UFC 285 features the long-awaited return of UFC all-time great Jon Jones as he battles former UFC interim heavyweight champion Ciryl Gane. The two will meet for the vacant UFC heavyweight title in the main event with Ricci and Penne fighting on the preliminary card. More importantly, for Ricci, she will get to perform in front of fans for the first time in nearly a decade. This is because her three fights in the LFA took place in the bubble due to the COVID-19 pandemic and her three fights in the UFC took place at the UFC Apex. Now that she is set to fight in front of 20,000+ fans at the T-Mobile Arena, one of the premier venues in all of combat sports, she is beaming with excitement.
"I'm very excited. I've been there in T-Mobile Arena with Julija (Stoliarenko) for the first time last summer," Ricci old LFA.com. "I have felt the adrenaline and the thrill, so I kinda already know what to expect. I'm just going to blank my mind and not going to pay attention to it once I'm in there. I'm just going to focus on myself, my team, my strategy, and the work that we have to do. My goal is just to go there, do my thing, and go back to my family and friends… enjoy them and just make this job done. I'm very excited and grateful for the UFC for having me on this card. I just want to make a good show for the public. Of course for myself and then make everyone proud of me, because this was a lot of work and this work just started. Yeah, I'm just grateful."
Watch UFC 285: Jones vs. Gane on ESPN+
A lot of that gratitude comes from the fact that Ricci is part of a generation of MMA fighters that have little to no experience fighting in front of fans due to the pandemic and the ensuing protocols that resulted in athletes competing inside empty venues. Ricci did fight twice in Brazil as a teenager, before moving to Japan to train under UFC veteran and Judo black belt Michihiro Omigawa at the Kodokan. However, those fights were on a smaller regional scale and it was her journey to the Far East that led her on the path that she is on today, The Kodokan is the birthplace of Judo. It was there where she met her best friend Stoliarenko. The two did not speak the same language, but that soon changed when the Lithuanian taught the Brazilian how to speak English in Japan. Their bond continued once they left Japan as Ricci has now cornered the UFC bantamweight for all of her fights since she re-signed with the promotion in 2020. Ricci is also a lifelong martial artist and daughter to the legendary judoka Carlos "Trovão" Salto, which shows how closely connected her love for the sport is to her family and closest friends. Now the wait for everyone is almost over.
"I remember when it was the first time, when I did my first MMA fight. I was 18-years-old. It was a long time ago. It was very tense for me. I had my family, my parents, everyone was there for me," stated Ricci. "It feels like from the first time, everybody will be there with me. I am very glad to always have the support of my family, friends, everyone that always believed in me since Day 1. I just use that as energy, as gasoline, just turn everything to love and bring it with me in my heart. Just to do my best, do the thing I love to do… I dedicated all my life to be there. The most I can say in one word for this moment, it would be grateful."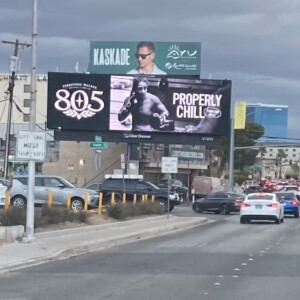 Tabatha Ricci is the face of 805 Beer and the billboards in Las Vegas are out in full force for the lead-up to her return at UFC 285.
The Paragon Jiu-Jitsu black belt and Kodokan Judo black belt is now in the middle of her fifth UFC Fight Week if you count the fight, this past fall, that was canceled one day before the fight. She affectionately refers to these weeks as 'Baby Shark Week' and she couldn't be more prepared. Instead of training for 4 weeks for one of the founding members of the division, she has now had 6 months of preparation and is ready to show the world and the division that she's coming.
Las Vegas now feels like a third home to Ricci outside of her home base in Ventura, California and hometown of Birigui, São Paulo, Brazil. Las Vegas is 'The Fight Capital of the World', 'The Entertainment Capital of the World, and home to the UFC. That only makes it fitting that she can now be found in her unmistakable fight stance on 805 Beer billboards throughout the city. Las Vegas is ready, the fans are ready, and most importantly Ricci is ready. UFC 285: Jones vs. Gane takes place this Saturday, March 4th and it will be available worldwide on ESPN, ESPN+, and UFC Fight Pass.
=====================================================================================================
In 2017, RFA and Legacy FC merged to form LFA, the premier developmental organization in Mixed Martial Arts. The combined forces of LFA launched the careers of over 270 athletes that have reached the pinnacle of MMA by competing in the UFC. In 2018, the promotion joined the Imperial Family Companies group (formerly London Trust Media). In 2019, the promotion announced a broadcast partnership with UFC FIGHT PASS®. In 2021, the LFA expanded internationally by hosting multiple events in Brazil.
Please visit LFA.com for updates and information. LFA is on Facebook at Facebook.com/LFAfighting. LFA is also on Instagram at @LFAfighting and Twitter at @LFAfighting.
About LFA:
LFA is a professional Mixed Martial Arts promotion that gives rising stars and top contenders the opportunity to prove their talent to fans and leaders in the industry. LFA was formed by the powerhouse merger between RFA and Legacy FC. LFA presents live Mixed Martial Arts events on a monthly basis around the United States including Las Vegas, Los Angeles, Denver, Dallas, and Houston. Based in Las Vegas, NV, LFA is one of the most active and respected MMA organizations in the fastest growing sport in the world. (The Octagon, Ultimate Fighting Championship®, UFC®, and the eight-sided competition mat and cage design are registered trademarks owned exclusively by Zuffa, LLC. All rights reserved).
About UFC FIGHT PASS®:
UFC FIGHT PASS® is the world's leading digital subscription service for combat sports. Since launching in 2013, UFC FIGHT PASS is now available in more than 200 countries and territories. FIGHT PASS provides its members with unlimited access to live UFC FIGHT PASS Prelims; live mixed martial arts and combat sports from around the world; original series and historical programming; special features; behind-the-scenes content; in-depth interviews; and up-to-the minute reports on the world of combat sports. UFC FIGHT PASS subscribers also have 24/7 access to the world's largest fight library, featuring more than 20,000 bouts from dozens of combats sports organizations, as well as every fight in UFC history. Fight fans can access UFC FIGHT PASS on personal computers, iOS and Android mobile devices, Apple TV, Xbox One, Amazon Fire TV, Chromecast, Roku, Samsung Smart TVs, LG Smart TVs, and Sony TVs with Android TV. For more information, please visit UFCFightPass.com.
About IMPERIAL FAMILY COMPANIES:
The Imperial Family Companies maintains a diversified portfolio with one common theme: bringing power to the people. The IFC is proud to partner with the LFA management team to showcase the greatest talents of tomorrow. Learn more about the IFC at ImperialFamily.com.