BY RYAN BEVINS, ON TWITTER @BEVOIS
Rachel Martinez made her long-awaited professional MMA debut this past October after two decades of training as a martial artist. The fight came at LFA 145 in Oshkosh, Wisconsin, which is about three hours north from her home in the Chicago area. That night she impressed the packed house at the Oshkosh Arena by stopping Ohio native Diamond Long via TKO with dominant grappling in the first round. In fact, the fight-ending punches came after she immobilized her opponent on the ground with a crucifix. Looking at the result of this fight, as well as the result of her last amateur fight that she won with a vicious slam, it is easy to assume that she is another Midwest wrestler. However, her martial arts background began more traditionally.
"I started Taekwondo when I was 10-years-old and practiced and trained until I was 18," Martinez told LFA.com. "Then in 2015, I took Kickboxing classes. I ended up competing in Kickboxing with a record of 6-2. After my last Kickboxing match, I wanted something more challenging. In 2017, I started training MMA and then made my amateur MMA debut in 2018."
Get your tickets for LFA 153: Mariscal vs. Faria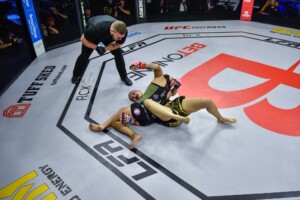 Rachel Martinez won her LFA debut via TKO (Punches from the Crucifix) at LFA 145.
Martinez has been able to piece together her full MMA game at Intercept MMA in the Chicago suburb of Forest Park, Illinois. It is there where her coaches have fused her striking background with her natural grappling talents.
"Danny Somers has helped me dramatically," Martinez explained. "He's helped my standup so much. He's very crafty on the feet. My husband, who will also be cornering me (Matt Martinez), has helped me with my entrances and wrestling."
However, the sources of inspiration and pride for Martinez do not begin and end with her hometown and home gym. In fact, they are a lot deeper than that. She is a proud Colombian-American that represents her parents home country along with her own at every fight. She also hopes to achieve a lot of the same success as another LFA star and fellow Colombiana. That would be former LFA women's flyweight champion and UFC veteran Sabina Mazo.
"I love being able to represent my Colombian background," Martinez exclaimed. "I love my double-sided flag! Colombia on one side and USA on the other. After my last fight, Sabina (Mazo) shared one of my stories and followed me back on Instagram. I was star-struck. UFC vet like her… I want to be able to accomplish what she has someday!"
Watch LFA 153: Mariscal vs. Faria on UFC Fight Pass
The next step in accomplishing her lofty MMA goals takes place this Friday and the proud Colombiana has her sights set on her next target. That just so happens to be someone she is already very familiar with. That is because she was scheduled twice to make her professional MMA debut against Alandria Brown last year in the LFA.
"The third time is a charm," stated Martinez. "I feel like because it didn't happen the first time or the second, it's now more anticipated!"
The first bout between Martinez and Brown was set for LFA 128 in Sioux Falls, South Dakota. They were then set to mix it up a month later at LFA 131 in Oshkosh, Wisconsin. While neither bout came to fruition, both women went on to earn dominant first round finishes in the LFA, which makes this fight a lot bigger one year later. Their fight will take place on the main card of LFA 153: Mariscal vs. Faria this Friday, February 17th and it will be available worldwide and exclusively on UFC Fight Pass.
=====================================================================================================
In 2017, RFA and Legacy FC merged to form LFA, the premier developmental organization in Mixed Martial Arts. The combined forces of LFA launched the careers of over 270 athletes that have reached the pinnacle of MMA by competing in the UFC. In 2018, the promotion joined the Imperial Family Companies group (formerly London Trust Media). In 2019, the promotion announced a broadcast partnership with UFC FIGHT PASS®. In 2021, the LFA expanded internationally by hosting multiple events in Brazil.
Please visit LFA.com for updates and information. LFA is on Facebook at Facebook.com/LFAfighting. LFA is also on Instagram at @LFAfighting and Twitter at @LFAfighting.
About LFA:
LFA is a professional Mixed Martial Arts promotion that gives rising stars and top contenders the opportunity to prove their talent to fans and leaders in the industry. LFA was formed by the powerhouse merger between RFA and Legacy FC. LFA presents live Mixed Martial Arts events on a monthly basis around the United States including Las Vegas, Los Angeles, Denver, Dallas, and Houston. Based in Las Vegas, NV, LFA is one of the most active and respected MMA organizations in the fastest growing sport in the world. (The Octagon, Ultimate Fighting Championship®, UFC®, and the eight-sided competition mat and cage design are registered trademarks owned exclusively by Zuffa, LLC. All rights reserved).
About UFC FIGHT PASS®:
UFC FIGHT PASS® is the world's leading digital subscription service for combat sports. Since launching in 2013, UFC FIGHT PASS is now available in more than 200 countries and territories. FIGHT PASS provides its members with unlimited access to live UFC FIGHT PASS Prelims; live mixed martial arts and combat sports from around the world; original series and historical programming; special features; behind-the-scenes content; in-depth interviews; and up-to-the minute reports on the world of combat sports. UFC FIGHT PASS subscribers also have 24/7 access to the world's largest fight library, featuring more than 20,000 bouts from dozens of combats sports organizations, as well as every fight in UFC history. Fight fans can access UFC FIGHT PASS on personal computers, iOS and Android mobile devices, Apple TV, Xbox One, Amazon Fire TV, Chromecast, Roku, Samsung Smart TVs, LG Smart TVs, and Sony TVs with Android TV. For more information, please visit UFCFightPass.com.
About IMPERIAL FAMILY COMPANIES:
The Imperial Family Companies maintains a diversified portfolio with one common theme: bringing power to the people. The IFC is proud to partner with the LFA management team to showcase the greatest talents of tomorrow. Learn more about the IFC at ImperialFamily.com.
About THE HORSESHOE CASINO HAMMOND:
The legendary Horseshoe Hammond casino is Chicagoland's No. 1 destination for 21 and over gambling, dining, sports betting and entertainment. Home to delicious cuisine courtesy of Jack Binion's Steakhouse restaurant, we also host the Chicago area's top acts and concerts at The Venue. Exceeding expectations at every turn, Horseshoe is where Chicagoland gambles. For more information, visit the official Horseshoe Hammond Website.