BY RYAN BEVINS, ON TWITTER @BEVOIS
"Vivir Mi Vida" is a song by singer Mark Anthony that won a Latin Grammy Award in 2013 for Record of the Year and holds the record for the second-longest run inside the Top 5 in the Billboard Latin Songs at 51 weeks. On YouTube, the official video for the song has received over 1.1 billion views. Despite the song's immense popularity, when any fight fan hears it while attending a UFC event or watching it live from home, they are only thinking of one thing when that tune hits the speakers. That would be Lupita "Loopy" Godinez, who has become synonymous with her walkout song in the fight world and embodies its meaning to "live my life". That is exactly what she has been doing during her record-breaking career.
Born in Aguascalientes, Mexico, which is located in the northern part of the Bajío region in north-central Mexico, Godinez is at the forefront of Mexico's ascendance in the UFC and MMA as a whole. When she was 12-years-old, her parents moved her and her three younger sisters to Vancouver, British Columbia, Canada and to this day she proudly represents both countries on the world stage. The path to that stage started 9 years ago, when she first began training Judo in Canada. Godinez describes Judo as her "first love" and it soon opened the doors to her biggest love, MMA. The transition was seamless and now two of her three younger sisters, Ana Paula and Karla, are world-class wrestlers and members of the Canadian national team.
Get your VIP tickets for Watch UFC Vegas 73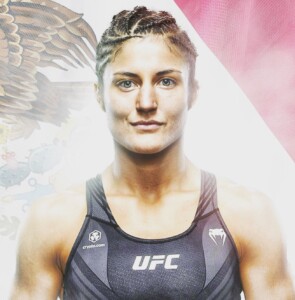 Loopy Godinez is one of Mexico's most promising UFC contenders.
The oldest of the Godinez sisters, Loopy, had something else in mind and officially made the jump to MMA with a pair of amateur fights against Jamey-Lyn Horth in late 2016 and early 2017. This is the same Jamey-Lyn Horth that went on to win the LFA women's flyweight title, a recent UFC debut at bantamweight, and remains undefeated in the sport. The two eventually rose to the top of the Canadian women's MMA scene and quickly teamed up after realizing they only live an hour apart. Godinez of course is a strawweight, where she now competes two weight classes below Horth, but her gameness has always been her calling card. It has now made her one of the most revered fighters in the sport as she has showcased that classic Mexican warrior spirit throughout her career. However, Godinez identifies her LFA title fight against Vanessa Demopoulos as perhaps the turning point, which brought global awareness to her unwavering toughness.
"I believe the LFA title fight with Vanessa (Demopoulos) was very important to have," Godinez told LFA.com. "It helped me level up for the UFC and of course I got to gain a friend after that fight!"
That title fight took place in the main event of LFA 94 on the Eve of Halloween in 2020 and would go down as one of the greatest title fights in LFA history. Godinez came into the fight with a perfect 5-0 record, but had not competed on a worldwide stage against a strawweight that was able to match her toughness and ferocity. Vanessa Demopoulos was the reigning LFA women's strawweight champion and had just secured the belt three months prior with a "Submission of the Year" award winning performance against current UFC fighter Sam Hughes at LFA 85.
The magnitude of their showdown was intensified by the fact that the world was still in the middle of a worldwide lockdown due to the COVID-19 pandemic and the LFA was one of the only MMA promotions hosting events. While there were no fans in attendance due to the protocols, fans from around the world were glued to their television screens watching the carnage and chaos that would unfold. Godinez and Demopoulos left it all in the cage that night and will forever be connected by the 25-minutes of combat they shared. It was one of those rare moments in sports, where everyone watching knew they were witnessing something special. In the end, Godinez would be announced the winner and became the first woman in LFA history to dethrone a sitting champion. Moreover, it gained her admiration from fans, fighters, and media from around the globe and she was voted the winner of the LFA Fans' Choice Awards: Female Fighter of the Year in 2020. What followed after that, as with most LFA champions, was a UFC contract.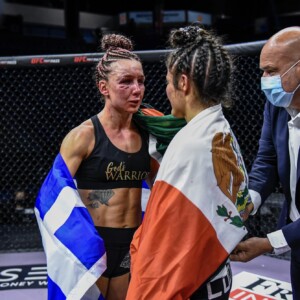 Loopy Godinez and Vanessa Demopoulos embrace after one of the greatest title fights in LFA history at LFA 94. Both women will be in action this Saturday at UFC Vegas 73 on ESPN+.
This is when her gameness to fight up weight classes, against anyone at any time, really came into full focus. It started with her UFC debut, which she took on a week's notice against former UFC title challenger Jessica Penne. Then the magic started to happen. In October 2021, she took a pair of UFC fights in two different weight classes against opponents she found out about the week before. Incredibly, those are not the details that UFC officials, fight fans, and the media gravitated toward. It was the fact that these fights with Silvana Gómez Juárez of Argentina and Luana Carolina of Brazil took place just 7 days apart and broke the UFC's modern day record for fastest turnaround between fights. Then she took another fight 5 weeks after that to set the modern day record at 42 days between three UFC fights. That would become a common theme throughout Godinez's UFC career as she has now found out the name of her opponent or the date of her fight on short notice in 6 of her 8 bouts for the promotion, which includes her fight this weekend against Emily Ducote.
"I'm very comfortable fighting short notice fights," Godinez explained. "I love it. I work so hard and that's going to show on Saturday."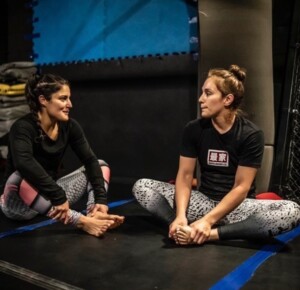 Loopy Godinez and teammate Alexa Grasso (UFC women's flyweight champion).
Godinez is always in the process of improving and re-inventing herself as a fighter. This really started to escalate once she was signed with the UFC and connected with fellow UFC star and countrywoman Alexa Grasso. This resulted in Godinez being invited to train in the country of her birth at Lobo Gym in Guadalajara, Jalisco, Mexico. The gym happens to be located just 3 hours southwest of her hometown of Aguascalientes and gave her a sense of reconnecting with her Mexican roots. Godinez also got to work with Grasso for several fights and witnessed the rise of the UFC's newest queen.
In March, Grasso dethroned UFC women's flyweight champion Valentina Shevchenko, who is one of the greatest UFC champions of all time. The gym is also home to UFC women's bantamweight contender Irene Aldana, who will be looking to unseat the other female GOAT in Amanda Nunes next month in Godinez's current hometown of Vancouver. Godinez believes this will give Mexico a fourth new UFC champion in just over the first five months of 2023. The first three are Brandon Moreno (flyweight), Yair Rodriguez (interim featherweight), and Grasso.
"I do think Irene will be the next champ," stated Godinez. "It is so amazing to see. I get so inspired by them. That gets to show us that with hard work everything is possible."
Godinez is now officially a member of Lobo Gym and hopes to give the team a complete set of queens by capturing the UFC women's strawweight title to go along with Grasso at flyweight and the possibility of Aldana at bantamweight on June 10th. However, perhaps just as important as doing her fight camps full time alongside Grasso and Aldana, is the fact that Grasso's uncle Francisco "Pancho" Grasso will now be her head coach. He is the mastermind that is credited as the man who analyzed every second of fight footage on Shevchenko, that he could find, until he identified a chink in her armor. He then gave that piece of information to his niece Alexa and she was able to secure a Rear Naked Choke victory at UFC 285.
"Training at Lobo Gym is amazing," Godinez explained. "There is only hard work and a lot of knowledge. I love them. They are great people."
Now that Godinez has found a new home with Team Lobo and looks to continue Mexico's winning ways in the UFC in 2023, the sky's the limit for the strawweight contender. However, old habits die hard, and Godinez once again answered the call when Ducote needed an opponent on short notice this weekend. After defeating former UFC headliner and fellow LFA alum Cynthia Calvillo at UFC 287 last month, Godinez made the switch to Lobo Gym where she planned to spend her entire next fight camp, but the potential of breaking into the UFC rankings over a previously ranked Top 15 opponent was too big of an opportunity to pass up. This is a fight she feels she will win everywhere, on a short notice call that she has grown accustomed to, and she will have Pancho in her corner for the first time, working that Mexican MMA magic.
UFC Vegas 73 takes place this Saturday, May 20th at the UFC Apex in Las Vegas, Nevada and it will be available worldwide on ESPN+. Godinez will compete on the main card, which begins at 7 p.m. ET / 4 p.m. PT.
=====================================================================================================
In 2017, RFA and Legacy FC merged to form LFA, the premier developmental organization in Mixed Martial Arts. The combined forces of LFA launched the careers of over 270 athletes that have reached the pinnacle of MMA by competing in the UFC. In 2018, the promotion joined the Imperial Family Companies group (formerly London Trust Media). In 2019, the promotion announced a broadcast partnership with UFC FIGHT PASS®. In 2021, the LFA expanded internationally by hosting multiple events in Brazil.
Please visit LFA.com for updates and information. LFA is on Facebook at Facebook.com/LFAfighting. LFA is also on Instagram at @LFAfighting and Twitter at @LFAfighting.
About LFA:
LFA is a professional Mixed Martial Arts promotion that gives rising stars and top contenders the opportunity to prove their talent to fans and leaders in the industry. LFA was formed by the powerhouse merger between RFA and Legacy FC. LFA presents live Mixed Martial Arts events on a monthly basis around the United States including Las Vegas, Los Angeles, Denver, Dallas, and Houston. Based in Las Vegas, NV, LFA is one of the most active and respected MMA organizations in the fastest growing sport in the world. (The Octagon, Ultimate Fighting Championship®, UFC®, and the eight-sided competition mat and cage design are registered trademarks owned exclusively by Zuffa, LLC. All rights reserved).
About UFC FIGHT PASS®:
UFC FIGHT PASS® is the world's leading digital subscription service for combat sports. Since launching in 2013, UFC FIGHT PASS is now available in more than 200 countries and territories. FIGHT PASS provides its members with unlimited access to live UFC FIGHT PASS Prelims; live mixed martial arts and combat sports from around the world; original series and historical programming; special features; behind-the-scenes content; in-depth interviews; and up-to-the minute reports on the world of combat sports. UFC FIGHT PASS subscribers also have 24/7 access to the world's largest fight library, featuring more than 20,000 bouts from dozens of combat sports organizations, as well as every fight in UFC history. Fight fans can access UFC FIGHT PASS on personal computers, iOS and Android mobile devices, Apple TV, Xbox One, Amazon Fire TV, Chromecast, Roku, Samsung Smart TVs, LG Smart TVs, and Sony TVs with Android TV. For more information, please visit UFCFightPass.com.
About IMPERIAL FAMILY COMPANIES:
The Imperial Family Companies maintain a diversified portfolio with one common theme: bringing power to the people. The IFC is proud to partner with the LFA management team to showcase the greatest talents of tomorrow. Learn more about the IFC at ImperialFamily.com.