LAS VEGAS, Nevada — LFA President Sven Bean announced today that the LFA has entered into two event production agreements in April of 2023.
"The LFA team will return to both Arizona and Brazil to produce back to back events in May." said Bean, who handles venue booking and scheduling for the LFA.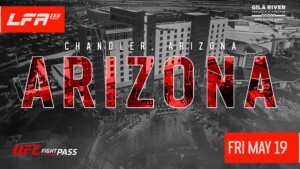 "We will kick things off by heading back to the Gila River Resort and Casino – Wild Horse Pass in Chandler, Arizona on Friday May 19th" stated Bean.
"We will once again bring the Octagon to the stage inside The Showroom at Wild Horse Pass. The world class venue, casino, and hotel all bring an upscale feel to the event, making it a 'see and be seen' type of show. The intimate setting puts every seat up close and personal, and part of the action. We started our 2023 season with a sold out show at this great venue, and I'm looking forward to returning to the nicest casino resort in the Phoenix area, another sell out crowd, and an amazing night of fights in May!"
Gila River Corporate Director of Entertainment Anastasia Palmer Johnson added:
"We are so excited to welcome the return of the LFA to The Showroom at Wildhorse Pass. In January, the LFA team proved to be of the highest level. They brought professional production, athleticism, showmanship and drama all in one night! We are thrilled to be able to offer such an exciting and dynamic event to our resort guests and patrons again in May!"
Tickets for LFA 158 go on sale Monday April 3rd at 10:00 AM PST through Ticketmaster.com.
LFA 158 will be broadcast live at 7PM PST/10PM EST on UFC FIGHT PASS.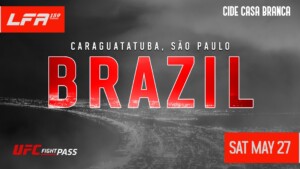 "The following week, the LFA returns to Brazil for a special Saturday night engagement at the CIDE Casa Branca Sports Complex in Caraguatauba, São Paulo, Brazil.
"We will continue to rely on our incredible LFA Brazil team as we return to Caraguatatuba, São Paulo, Brazil. Rafael Feijao continues to lead the charge in South America and again has formed a working relationship with Mayor Aguilar Junior. I'm personally excited to see the newly completed CIDE Casa Branca and see the LFA Octagon front and center on the international stage."
LFA V.P. of South America, Rafael Feijao added:
"I am excited for the LFA to return to Caraguatatuba in May. We have reinforced our relationship with Mayor Aguilar Junior. With his support, we have been able to put together a plan for an amazing series of events in the beautiful city. Just like with previous events in Brazil, we will continues our tradition of giving back to the community. We will be accepting donations of food in exchange for tickets to the event. The food will then be distributed to underprivileged families in the area. I look forward to the next step of growth for LFA Brazil in May!"
LFA 159 will be broadcast live at 6PM PST/9PM EST on UFC FIGHT PASS.
—
Look for LFA 158 and 159 Main Event, Co Main Event and Key Match Up announcements from LFA C.E.O. Ed Soares in the coming days.
—
In 2017, RFA and Legacy FC merged to form LFA, the premier developmental organization in Mixed Martial Arts. The combined forces of LFA launched the careers of over 270 athletes that have reached the pinnacle of MMA by competing in the UFC. In 2018, the promotion joined the Imperial Family Companies group (formerly London Trust Media). In 2019, the promotion announced a broadcast partnership with UFC FIGHT PASS®. In 2021, the LFA expanded internationally by hosting multiple events in Brazil.
Please visit LFA.com for bout updates and information. Visit the official LFA Youtube page at @LFA_Fighting. LFA is on Facebook at Facebook.com/LFAfighting. LFA is also on Instagram at @LFAfighting and Twitter at @LFAfighting.
About LFA:
LFA is a professional Mixed Martial Arts promotion that gives rising stars and top contenders the opportunity to prove their talent to fans and leaders in the industry. LFA was formed by the powerhouse merger between RFA and Legacy FC. LFA presents live Mixed Martial Arts events on a monthly basis around the United States including Las Vegas, Los Angeles, Denver, Dallas, and Houston. Based in Las Vegas, NV, LFA is one of the most active and respected MMA organizations in the fastest growing sport in the world. (The Octagon, Ultimate Fighting Championship®, UFC®, and the eight-sided competition mat and cage design are registered trademarks owned exclusively by Zuffa, LLC. All rights reserved).
About UFC FIGHT PASS®:
UFC FIGHT PASS® is the world's leading digital subscription service for combat sports. Since launching in 2013, UFC FIGHT PASS is now available in more than 200 countries and territories. FIGHT PASS provides its members with unlimited access to live UFC FIGHT PASS Prelims; live mixed martial arts and combat sports from around the world; original series and historical programming; special features; behind-the-scenes content; in-depth interviews; and up-to-the minute reports on the world of combat sports. UFC FIGHT PASS subscribers also have 24/7 access to the world's largest fight library, featuring more than 20,000 bouts from dozens of combats sports organizations, as well as every fight in UFC history. Fight fans can access UFC FIGHT PASS on personal computers, iOS and Android mobile devices, Apple TV, Xbox One, Amazon Fire TV, Chromecast, Roku, Samsung Smart TVs, LG Smart TVs, and Sony TVs with Android TV. For more information, please visit UFCFightPass.com.
About IMPERIAL FAMILY COMPANIES:
The Imperial Family Companies maintains a diversified portfolio with one common theme: bringing power to the people. The IFC is proud to partner with the LFA management team to showcase the greatest talents of tomorrow. Learn more about the IFC at ImperialFamily.com.
About GILA RIVER RESORTS & CASINOS:
Gila River Resorts & Casinos has been operating three locations in Arizona for over 25 years, all owned by the Gila River Indian Community: Wild Horse Pass, Lone Butte, and Vee Quiva.
The resorts at Wild Horse Pass and Vee Quiva are Four-Diamond accredited. All three casinos offer a combination of slots, table games, poker and more, and are open 24 hours a day, 365 days a year. Additional information is available at 1-800-946-4452 or at PlayAtGila.com.
About CIDE CASA BRANCA SPORTS COMPLEX:
The Municipality of Caraguatatuba, through the Secretariat of Public Works, restarted the works on the CIDE Casa Branca Sports Complex in 2021, after judicial approval. The purpose of the space is to meet the great demand for recreation and sports in the neighborhoods. The complex contains eight bathrooms, two locker rooms, two 21mx30m courts, seven multipurpose rooms, parking and a laundry room. When necessary, the two courts can be transformed into one, so that official and federated games of all modalities can be played in Caraguatatuba. For more information visit the official Municipality of Caraguatatuba website.