LAS VEGAS, Nevada — LFA President Sven Bean announced today that the LFA has entered into a single production agreement for December of 2023.
"I'm excited to announce that in December, the LFA team will finally head to the fight capital of the world, Las Vegas," said Bean, who handles venue booking and scheduling for the LFA.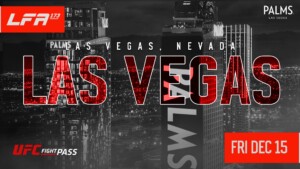 "We will close out an amazing year with a grand finale event at the iconic Palms Casino Resort, on Friday, December 15th," stated Bean.
"The 'Pearl at the Palms' has such a great history in MMA. It provided an intimate setting for numerous UFC fight nights and The Ultimate Fighter Finale events. The Pearl's unique design and atmosphere has made it a favorite destination for fight fans. It's also been home to countless top music and comedic acts. I couldn't be more excited to work with their experienced team, and display what the LFA can do in that legendary room. The UFC is the next night, so the town will be full of MMA fans. We're ready to show them what an LFA event is all about. I have to also extend my gratitude to Patrick Ortiz of Ringside Ticket INC for his assistance on this exciting project" stated Bean.
Crystal Robinson-Wesley, VP of Entertainment and Activations at Palms, added:
"We are thrilled to bring this exciting LFA event to Pearl Theater inside Palms Casino Resort. With our storied history of hosting epic showdowns, we anticipate this one will be nothing short of spectacular. We're especially excited to share with MMA fans that there isn't a bad seat in the house, so get ready for an unforgettable night of adrenaline-pumping action!"
Tickets for LFA 173 are on sale NOW at Ticketmaster.com.
LFA 173 will be broadcast live at 7PM PST/10PM EST on UFC FIGHT PASS.
—
Look for LFA 173 Main Event, Co-Main Event and Key Matchup announcements from LFA CEO Ed Soares in the coming days.
—
In 2017, RFA and Legacy FC merged to form LFA, the premier developmental organization in Mixed Martial Arts. The combined forces of LFA launched the careers of over 300 athletes that have reached the pinnacle of MMA by competing in the UFC. In 2018, the promotion joined the Imperial Family Companies group (formerly London Trust Media). In 2019, the promotion announced a broadcast partnership with UFC FIGHT PASS®. In 2021, the LFA expanded internationally by hosting multiple events in Brazil.
Please visit LFA.com for bout updates and information. Visit the official LFA YouTube page at @LFAfights. LFA is on Facebook at Facebook.com/LFAfighting. LFA is also on Instagram at @LFAfighting and X (formerly Twitter) at @LFAfighting.
About LFA:
LFA is a professional Mixed Martial Arts promotion that gives rising stars and top contenders the opportunity to prove their talent to fans and leaders in the industry. LFA was formed by the powerhouse merger between RFA and Legacy FC. LFA presents live Mixed Martial Arts events on a monthly basis around the United States including Las Vegas, Los Angeles, Denver, Dallas, and Houston. Based in Las Vegas, NV, LFA is one of the most active and respected MMA organizations in the fastest growing sport in the world. (The Octagon, Ultimate Fighting Championship®, UFC®, and the eight-sided competition mat and cage design are registered trademarks owned exclusively by Zuffa, LLC. All rights reserved).
About UFC FIGHT PASS®:
UFC FIGHT PASS® is the world's leading digital subscription service for combat sports. Since launching in 2013, UFC FIGHT PASS is now available in more than 200 countries and territories. FIGHT PASS provides its members with unlimited access to live UFC FIGHT PASS Prelims; live mixed martial arts and combat sports from around the world; original series and historical programming; special features; behind-the-scenes content; in-depth interviews; and up-to-the minute reports on the world of combat sports. UFC FIGHT PASS subscribers also have 24/7 access to the world's largest fight library, featuring more than 20,000 bouts from dozens of combat sports organizations, as well as every fight in UFC history. Fight fans can access UFC FIGHT PASS on personal computers, iOS and Android mobile devices, Apple TV, Xbox One, Amazon Fire TV, Chromecast, Roku, Samsung Smart TVs, LG Smart TVs, and Sony TVs with Android TV. For more information, please visit UFCFightPass.com.
About IMPERIAL FAMILY COMPANIES:
The Imperial Family Companies maintain a diversified portfolio with one common theme: bringing power to the people. The IFC is proud to partner with the LFA management team to showcase the greatest talents of tomorrow. Learn more about the IFC at ImperialFamily.com.
About PALMS CASINO RESORT:
Palms Casino Resort is making history as the first resort in Las Vegas fully owned and operated by a Native American Tribe. Palms Casino Resort features two distinct towers with 766 hotel rooms and suites, a diverse mix of bars, restaurants, live entertainment venues, and immersive lifestyle experiences across a 95,000-square-foot reimagined casino. Offering free valet and self-parking, the resort also includes over 190,000 square feet of meeting, convention, and event space; the Pearl, a 2,500-seat theater; an expansive pool, The Spa & Salon at Palms; a wedding chapel; the Brenden Theatre 14-screen cinema and nearly 600 units at Palms Place condominiums. Palms is located just west of the center of the Las Vegas Strip off I-15 on Flamingo Road. Palms Casino Resort is owned by The San Manuel Gaming and Hospitality Authority ("SMGHA") an affiliate of the San Manuel Band of Mission Indians. For more information visit Palms.com or the Palms Press Room. Follow @Palms on social media Facebook, Twitter, and Instagram.