CHANDLER, AZ – On Thursday, January 5th, LFA hosted the weigh-in for LFA 149: Bunes vs. Horiuchi from Gila River Resorts & Casinos – Wild Horse Pass in Chandler, Arizona.
The main event will feature a flyweight title fight between top Brazilian prospect Felipe "Felipinho" Bunes (12-6) and top Japanese prospect Yuma "Ichiban" Horiuchi (10-5).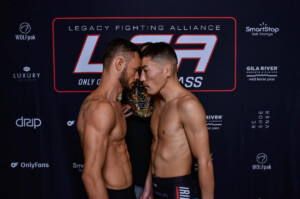 LFA 149 will feature veteran MMA commentator Ron Kruck, who will be joined in the booth by former UFC star and Strikeforce champion Gilbert "El Niño" Melendez.
The Brazilian-Portuguese commentary team will consist of former Bellator and RFA star Chinzo Machida and Brazilian MMA analyst Max Soares. They will call the action live inside the Gila River Resorts & Casinos – Wild Horse Pass in Chandler, Arizona. The main card will be available tomorrow night LIVE on UFC FIGHT PASS® at 10 p.m. ET / 7 p.m. PT.
Every fighter, except Yuma Horiuchi, made their contracted weight when they stepped on the scales. Horiuchi will now forfeit a portion of his purse to their opponent Felipe Bunes. Horiuchi is not eligible to win a title in his championship bout. His opponent Felipe Bunes is still eligible to win the title with a victory.
LFA 149 will proceed with seven bouts, which includes the flyweight championship at the top of the card.
LFA 149 WEIGH-IN RESULTS:
Main Card (Worldwide on UFC Fight Pass at 10 p.m. ET / 7 p.m. PT):
Main Event | Flyweight Title Bout (125 lb)
Felipe Bunes (124.4) vs. Yuma Horiuchi (126.6)***
*** Horiuchi will pay a penalty to Bunes. Only Bunes is eligible to win the title.
Co-Main Event | Bantamweight Bout (135 lb)
Marcus McGhee (135.8) vs. Luciano Ramos (134.8)
Middleweight Bout (185 lb)
Eric Fimbres (185.4) vs. Tony Charles (185)
Lightweight Bout (155 lb)
Cedric Katambwa (155.6) vs. Adam Garcia (155)
Catchweight Bout (165 lb)
Princeton Jackson (160.2) vs. C.J. Brant (165.4)
Preliminary Card:
Bantamweight Bout (135 lb)
Chance Ikei (135) vs. Shad Walters (136)
Women's Strawweight (115 lb)
Grace DiFrancesco (115.6) vs. Kayla Reagan (115.2)
About LFA:
LFA is a professional Mixed Martial Arts promotion that gives rising stars and top contenders the opportunity to prove their talent to fans and leaders in the industry. LFA was formed by the powerhouse merger between RFA and Legacy FC. LFA presents live Mixed Martial Arts events on a monthly basis around the United States including Las Vegas, Los Angeles, Denver, Dallas, and Houston. Based in Las Vegas, NV, LFA is one of the most active and respected MMA organizations in the fastest growing sport in the world. (The Octagon, Ultimate Fighting Championship®, UFC®, and the eight-sided competition mat and cage design are registered trademarks owned exclusively by Zuffa, LLC. All rights reserved).
About UFC FIGHT PASS®:
UFC FIGHT PASS® is the world's leading digital subscription service for combat sports. Since launching in 2013, UFC FIGHT PASS is now available in more than 200 countries and territories. FIGHT PASS provides its members with unlimited access to live UFC FIGHT PASS Prelims; live mixed martial arts and combat sports from around the world; original series and historical programming; special features; behind-the-scenes content; in-depth interviews; and up-to-the minute reports on the world of combat sports. UFC FIGHT PASS subscribers also have 24/7 access to the world's largest fight library, featuring more than 20,000 bouts from dozens of combats sports organizations, as well as every fight in UFC history. Fight fans can access UFC FIGHT PASS on personal computers, iOS and Android mobile devices, Apple TV, Xbox One, Amazon Fire TV, Chromecast, Roku, Samsung Smart TVs, LG Smart TVs, and Sony TVs with Android TV. For more information, please visit ufcfightpass.com.
About IMPERIAL FAMILY COMPANIES:
The Imperial Family Companies maintains a diversified portfolio with one common theme: bringing power to the people. The IFC is proud to partner with the LFA management team to showcase the greatest talents of tomorrow. Learn more about the IFC at ImperialFamily.com.
About GILA RIVER RESORTS & CASINOS:
Gila River Resorts & Casinos has been operating three locations in Arizona for over 25 years, all owned by the Gila River Indian Community: Wild Horse Pass, Lone Butte, and Vee Quiva.
The resorts at Wild Horse Pass and Vee Quiva are Four-Diamond accredited. All three casinos offer a combination of slots, table games, poker and more, and are open 24 hours a day, 365 days a year. Additional information is available at 1-800-946-4452 or at PlayAtGila.com.