BY RYAN BEVINS, ON TWITTER @BEVOIS
Jerrell "Thunderkat" Hodge is a man that lives by the mantra "Cleveland is the City (that we come from)" that was made famous by the hip hop group Bone Thugs-n-Harmony. This is because the proud Clevelander is well aware that the path he is taking is similar to that of fellow Ohio natives Jeff Hughes and Vanessa Demopoulos, who both have ties to his city and both won LFA titles before signing with the UFC.
"Oh man… Ohio people, we are hungry and just built different from the rest," Hodge told LFA.com. "I would love to get that LFA belt and get that call from the UFC just like Jeff and Vanessa. It's been a dream of mine, my whole career."
That dream began in his childhood in traditional martial arts, but it took inspiration from a UFC 1 original Ken Shamrock, who had crossed over into pro wrestling in the late 90's before returning to the UFC in 2002, to get Hodge hooked on MMA.
"I have always been in martial arts. The first thing my parents got me in growing up was Karate," Hodge recalled. "I did it for some years in Orange, Ohio. I think it was from 7-10, but that was too much money, so that ended. Then I got into wrestling in 7th grade and did that all the way through high school. After that, I found MMA a year after graduating. The biggest thing that got me into martial arts is that it's just you and your opponent 1-v-1. No team, just you and that feeling of beating another man 1-v-1 is amazing. The first time I watched MMA was on a VHS. I was a fan of Ken Shamrock as a WWE wrestler and seeing him in this new sport and seeing how violent it was had me hooked. Over time, it became Anderson Silva, Mighty Mouse, and so on."
Get your tickets for LFA 155: Do Nascimento vs. Hodge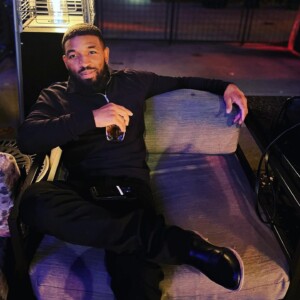 LFA title challenger Jerrell "Thunderkat" Hodge.
Hodge is perhaps best known, especially in Ohio, as the first man to ever knockout Cody Garbrandt. This happened 11 years ago, when the two bantamweights were coming up through the amateur ranks in the Buckeye State. While the knockout went viral, the view count soared a few years after the fight, when Garbrandt would go on to dethrone the long-reigning UFC bantamweight champion Dominick Cruz for the title. While Garbrandt improved to 11-0 as a pro and became the first man to defeat Cruz in the UFC, fans and pundits alike quickly pointed out that Hodge was the man that beat the man.
Hodge realizes that Cody Garbrandt is a name that will always stand out on his fight résumé and that it has done a lot to help him make a name for himself in the sport. The fact that Joe Rogan and Paul Felder just discussed the knockout a month ago on Rogan's wildly popular podcast The Joe Rogan Experience (JRE) shows just how long-lasting the impact of that win has been. However, Hodge prefers fans to remember him for what he plans to do at LFA 155 instead.
"That Cody KO was so long ago. I want the world seeing me… and be like, damn this is a guy that's ready for the big stage. I had so many other great fights in my career. I think that spinning back elbow on Alford Leisure was fire. I appreciate LFA giving me such a big fight on such a big stage and I can't wait to show the world what the Thunderkat has to offer!"
Watch LFA 155: Do Nascimento vs. Hodge
Nowadays, as Hodge is knocking on the door of the UFC, he has kept his fight camp in the OH-IO. He trains at Ares Combat Training Center with Dave Graf for his striking and Next Level Martial Arts Alliance with Ed Bean for his grappling, but it was a former coach (and host of Human Weapon) that gave him his famous nickname after the 80's animated television series.
"I got the name Thunderkat from my first MMA coach Bill Duff," Hodge explained. "I came into class wearing a Thunderkat t-shirt and he called me Thunderkat from that day forward… and I rolled with it to this day."
It is only fitting that he also lives by the words of Panthro, one of the ThunderCats, who wisely said "Defeat of your enemy is worth any sacrifice." While Hodge does not view his next opponent Rafael "Mulisha" Do Nascimento or the possible title unification bout opponent Muin "Tajik" Gafurov as enemies, he does view them as obstacles and he is more than confident he will defeat them.
"No big thoughts on my guy Mulisha or Muin. They are just in the way of my dreams," Hodge exclaimed. "They are just doors I have to open, but these are doors I'm drop kicking down."
You can watch Jerrell "Thunderkat" Hodge battle Brazilian standout Rafael "Mulisha" Do Nascimento for the LFA interim bantamweight title in the main event of LFA 155. The event takes place this Friday, March 24th and it will be available worldwide on UFC Fight Pass at 9 p.m. ET / 6 p.m. PT.
=====================================================================================================
In 2017, RFA and Legacy FC merged to form LFA, the premier developmental organization in Mixed Martial Arts. The combined forces of LFA launched the careers of over 270 athletes that have reached the pinnacle of MMA by competing in the UFC. In 2018, the promotion joined the Imperial Family Companies group (formerly London Trust Media). In 2019, the promotion announced a broadcast partnership with UFC FIGHT PASS®. In 2021, the LFA expanded internationally by hosting multiple events in Brazil.
Please visit LFA.com for bout updates and information. LFA is on Facebook at Facebook.com/LFAfighting. LFA is also on Instagram at @LFAfighting and Twitter at @LFAfighting.
About LFA:
LFA is a professional Mixed Martial Arts promotion that gives rising stars and top contenders the opportunity to prove their talent to fans and leaders in the industry. LFA was formed by the powerhouse merger between RFA and Legacy FC. LFA presents live Mixed Martial Arts events on a monthly basis around the United States including Las Vegas, Los Angeles, Denver, Dallas, and Houston. Based in Las Vegas, NV, LFA is one of the most active and respected MMA organizations in the fastest growing sport in the world. (The Octagon, Ultimate Fighting Championship®, UFC®, and the eight-sided competition mat and cage design are registered trademarks owned exclusively by Zuffa, LLC. All rights reserved).
About UFC FIGHT PASS®:
UFC FIGHT PASS® is the world's leading digital subscription service for combat sports. Since launching in 2013, UFC FIGHT PASS is now available in more than 200 countries and territories. FIGHT PASS provides its members with unlimited access to live UFC FIGHT PASS Prelims; live mixed martial arts and combat sports from around the world; original series and historical programming; special features; behind-the-scenes content; in-depth interviews; and up-to-the minute reports on the world of combat sports. UFC FIGHT PASS subscribers also have 24/7 access to the world's largest fight library, featuring more than 20,000 bouts from dozens of combats sports organizations, as well as every fight in UFC history. Fight fans can access UFC FIGHT PASS on personal computers, iOS and Android mobile devices, Apple TV, Xbox One, Amazon Fire TV, Chromecast, Roku, Samsung Smart TVs, LG Smart TVs, and Sony TVs with Android TV. For more information, please visit UFCFightPass.com.
About IMPERIAL FAMILY COMPANIES:
The Imperial Family Companies maintains a diversified portfolio with one common theme: bringing power to the people. The IFC is proud to partner with the LFA management team to showcase the greatest talents of tomorrow. Learn more about the IFC at ImperialFamily.com.
About SENECA NIAGARA RESORT & CASINO:
Seneca Niagara Resort & Casino is a full-amenity resort located in picturesque Niagara Falls, New York. Featuring 604 rooms and suites, our AAA Four-Diamond rated hotel is the region's premier vacation destination. With ten restaurants, seven shops, more than 2,500 slots, and over 80 table games, live poker, keno, a full-service spa, flexible meeting facilities, rewarding promotions, superstar entertainment, and exciting nightlife, Seneca Niagara is consistently rated as a must-see Niagara Falls casino. From honeymoons to family getaways, your adventure starts here. For more info visit SenecaNiagaraCasino.com.