BY RYAN BEVINS, ON TWITTER @BEVOIS
Chance The Rapper famously said, "I think that's always the goal of art, is to make people ask themselves questions." Chance The Fighter agrees. That would be LFA flyweight prospect Chance "The Typhoon" Ikei, but his art happens to be MMA and the most recent question he asked himself had an obvious answer. The question was if it was time to turn pro and the answer was yes, making him the latest in an elite group of LFA flyweight prospects to make their pro debut for the promotion and two of them happen to be his friends and training partners An Tuan Ho and Christian Natividad.
The decision to turn pro became clear in January after his most recent fight at LFA 149. Ikei had just defeated Shad Walters with a devastating onslaught of Ground n' Pound that was anchored by his NCAA Division I wrestling pedigree. Walters was coming off a knockout win of his own for the promotion just four months earlier at LFA 142, but had no answer for the demolition that ensued. The bout took place in Chandler, Arizona, where Ikei went to high school and the arena inside the Gila River Resorts & Casinos – Wild Horse Pass erupted like they were watching the main event. The win came on the heels of a dominant debut fight for the promotion at LFA 135 and everyone knew it was time… Ikei was ready to go pro.
"After that fight my coaches and I had talked about it and were anticipating going pro," Ikei told LFA.com. "I am very thankful and super excited to make my pro debut with such an amazing promotion."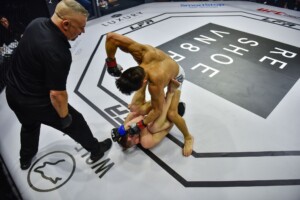 Chance Ikei was a perfect 5-0 in amateur MMA.
Ikei now calls The MMA Lab in Phoenix, Arizona home. This is widely regarded as one of the top MMA teams in the world, especially in the lower weight classes. Inside the gym, Ikei gets to train alongside a murderer's row of elite fighting talent: An Tuan Ho, Sean O'Malley, Kyler Phillips, Casey Kenney, Mario Bautista, Richie Palencia, Bryce Meredith, Marcus McGhee, and Clayton Carpenter are just some of the names that are on the mats with him daily. Ho will be fighting alongside Ikei at LFA 158, LFA alum O'Malley will be fighting for the UFC bantamweight title in the main event of UFC 292 in August, and the rest are highly-ranked fighters in the UFC, Bellator, and LFA.
"Being able to train alongside these studs is such a privilege," Ikei explained. "These guys are hungry, work hard, and we push each other everyday. It's definitely motivating knowing how hard these guys work to get better. It's always a learning experience and is going to make me the best fighter I can possibly become inside and outside of that cage."
The man leading the way is of course John Crouch, who is the head coach at The MMA Lab, and Ikei is quick to show his gratitude for him as well.
"There are so many things that make Crouch such an amazing coach," stated Ikei. "It starts off with how much of an amazing human he is… He genuinely cares for each and everyone of us! He is invested into our family/team and holds himself along with everyone else accountable. He knows how to create a successful environment."
Get your tickets for LFA 158: Lebosnoyani vs. Jones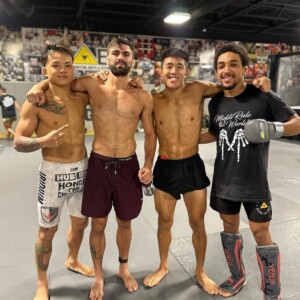 An Tuan Ho, Bryce Meredith, Chance Ikei, and Roderick Agyeman at The MMA Lab.
Ikei is a man that has proven he can adapt in or out of the cage. He was born in Rocky Mountains of Colorado before moving to the desert of Arizona. His family then moved to the tropics of Hawaii and then he finally decided to settle back in Arizona.
"I was born in Colorado Springs, Colorado and then moved to Arizona at a young age, where I grew up for several years," Ikei explained. "My family then moved to Hawaii to be with my dad's family, where I began wrestling. Wrestling then led me back to Arizona, where I plan to stay and establish my fight career."
Along the way, Ikei discovered his aforementioned love for wrestling. While attending Kaiser High School in Honolulu, Hawaii, he finished fourth in 2012, but he then won the Hawaii state title in 2014 and 2015. After moving back to the mainland, Ikei finished his high school career at Chandler High School in Chandler, Arizona, went 28-3, and finished third at the Arizona state championships in 2016. The successful four years of high school wrestling led to an opportunity to wrestle at the NCAA Division I level at Arizona State University. This has led to a smooth transition to MMA as he gets ready to make his pro debut at LFA 158 in the familiar surroundings of Chandler, Arizona.
"Although I have fought in this arena before, being able to make my pro debut out in Chandler makes me feel even more at home," stated Ikei. "Adding to the feeling I have felt since the day I decided to move from Hawaii back to the desert."
Watch LFA 158: Lebosnoyani vs. Jones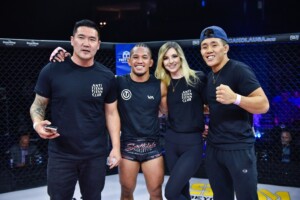 Chance Ikei was in the corner of Christian Natividad at LFA 144.
Ikei ended his amateur career with a perfect 5-0 record with the final two bouts coming inside the LFA. However, unlike some prospects, who are only trying to get fight experience as an amateur, Ikei was looking to gain the full experience for what life will be like as a professional fighter. That learning curve was expedited and supplemented with a trip to Sioux Falls, South Dakota last fall, where he traveled with fellow LFA prospect and Arizona State alum Christian Natividad for his fight against Israel Galvan at LFA 144.
Natividad is only one year older than Ikei and the two prospects share a lot in common. They are both Hawaiians that went to Arizona State and now call the Sonoran Desert home. They are both flyweight prospects that enjoyed perfect amateur MMA careers and dominated the southwestern regional circuit. Now Ikei will be making his pro MMA debut for the LFA just like Natividad did during the 2020 bubble. Natividad is now 5-0 as a pro and the experience of being a part of this highly-touted prospect's last Fight Week in Sioux Falls got Ikei excited for what is in store.
"My experience out in Sioux Falls with Christian was great," stated Ikei. "It allowed me to put more of a face to my name in the promotion I wanted to make my pro debut with and understand how things move along behind the scenes of LFA, so if when I got my opportunity, I would be more than comfortable in my environment."
The date and location for Ikei's pro MMA debut is now set and just like his nickname implies, there is no avoiding it.
"How I got the name 'The Typhoon' was actually from a fellow mentor/training partner 'Triple C', Henry Cejudo," Ikei explained. "But the back story behind why it stuck has to do with my mom's side of the family being from Guam, which a beautiful island that I am proud to represent. A typhoon is similar to a hurricane just in the northwestern Pacific Basin. And like any other natural disaster, you can have all the preparation, but there is no running away, you must whether the storm."
You can watch Chance "The Typhoon" Ikei face LFA veteran Joe Stafford on the featured swing bout of LFA 158. The event takes place this Friday, May 19th and it will be available worldwide on Facebook.com/LFAfighting at 9 p.m. ET / 6 p.m. PT. The main card is available on UFC Fight Pass at 10 p.m. ET / 7 p.m. PT.
=====================================================================================================
In 2017, RFA and Legacy FC merged to form LFA, the premier developmental organization in Mixed Martial Arts. The combined forces of LFA launched the careers of over 270 athletes that have reached the pinnacle of MMA by competing in the UFC. In 2018, the promotion joined the Imperial Family Companies group (formerly London Trust Media). In 2019, the promotion announced a broadcast partnership with UFC FIGHT PASS®. In 2021, the LFA expanded internationally by hosting multiple events in Brazil.
Please visit LFA.com for bout updates and information. Visit the official LFA YouTube page at @LFA_Fighting. LFA is on Facebook at Facebook.com/LFAfighting. LFA is also on Instagram at @LFAfighting and Twitter at @LFAfighting.
About LFA:
LFA is a professional Mixed Martial Arts promotion that gives rising stars and top contenders the opportunity to prove their talent to fans and leaders in the industry. LFA was formed by the powerhouse merger between RFA and Legacy FC. LFA presents live Mixed Martial Arts events on a monthly basis around the United States including Las Vegas, Los Angeles, Denver, Dallas, and Houston. Based in Las Vegas, NV, LFA is one of the most active and respected MMA organizations in the fastest growing sport in the world. (The Octagon, Ultimate Fighting Championship®, UFC®, and the eight-sided competition mat and cage design are registered trademarks owned exclusively by Zuffa, LLC. All rights reserved).
About UFC FIGHT PASS®:
UFC FIGHT PASS® is the world's leading digital subscription service for combat sports. Since launching in 2013, UFC FIGHT PASS is now available in more than 200 countries and territories. FIGHT PASS provides its members with unlimited access to live UFC FIGHT PASS Prelims; live mixed martial arts and combat sports from around the world; original series and historical programming; special features; behind-the-scenes content; in-depth interviews; and up-to-the minute reports on the world of combat sports. UFC FIGHT PASS subscribers also have 24/7 access to the world's largest fight library, featuring more than 20,000 bouts from dozens of combats sports organizations, as well as every fight in UFC history. Fight fans can access UFC FIGHT PASS on personal computers, iOS and Android mobile devices, Apple TV, Xbox One, Amazon Fire TV, Chromecast, Roku, Samsung Smart TVs, LG Smart TVs, and Sony TVs with Android TV. For more information, please visit UFCFightPass.com.
About IMPERIAL FAMILY COMPANIES:
The Imperial Family Companies maintains a diversified portfolio with one common theme: bringing power to the people. The IFC is proud to partner with the LFA management team to showcase the greatest talents of tomorrow. Learn more about the IFC at ImperialFamily.com.
About GILA RIVER RESORTS & CASINOS:
Gila River Resorts & Casinos has been operating three locations in Arizona for over 25 years, all owned by the Gila River Indian Community: Wild Horse Pass, Lone Butte, and Vee Quiva. The resorts at Wild Horse Pass and Vee Quiva are Four-Diamond accredited. All three casinos offer a combination of slots, table games, poker and more, and are open 24 hours a day, 365 days a year. Additional information is available at 1-800-946-4452 or at PlayAtGila.com.